Save the Dates for Summer 2017: Mon., June 26 – Fri., August 4, 2017
D-E 360° Summer Connections 2017 will be in session from Monday, June 26 – Friday, August 4, 2017.  Information on all our programs in Adventures & Discoveries (for ages PreK – Grade 4), Enrichment (for Grades 5-12) and Scholars (for Grades 5-12) will be available beginning in mid-January 2017.
Enter your email if you want to be notified when new information becomes available.
Open House Registration

(March 4, 2017 and April 22, 2017)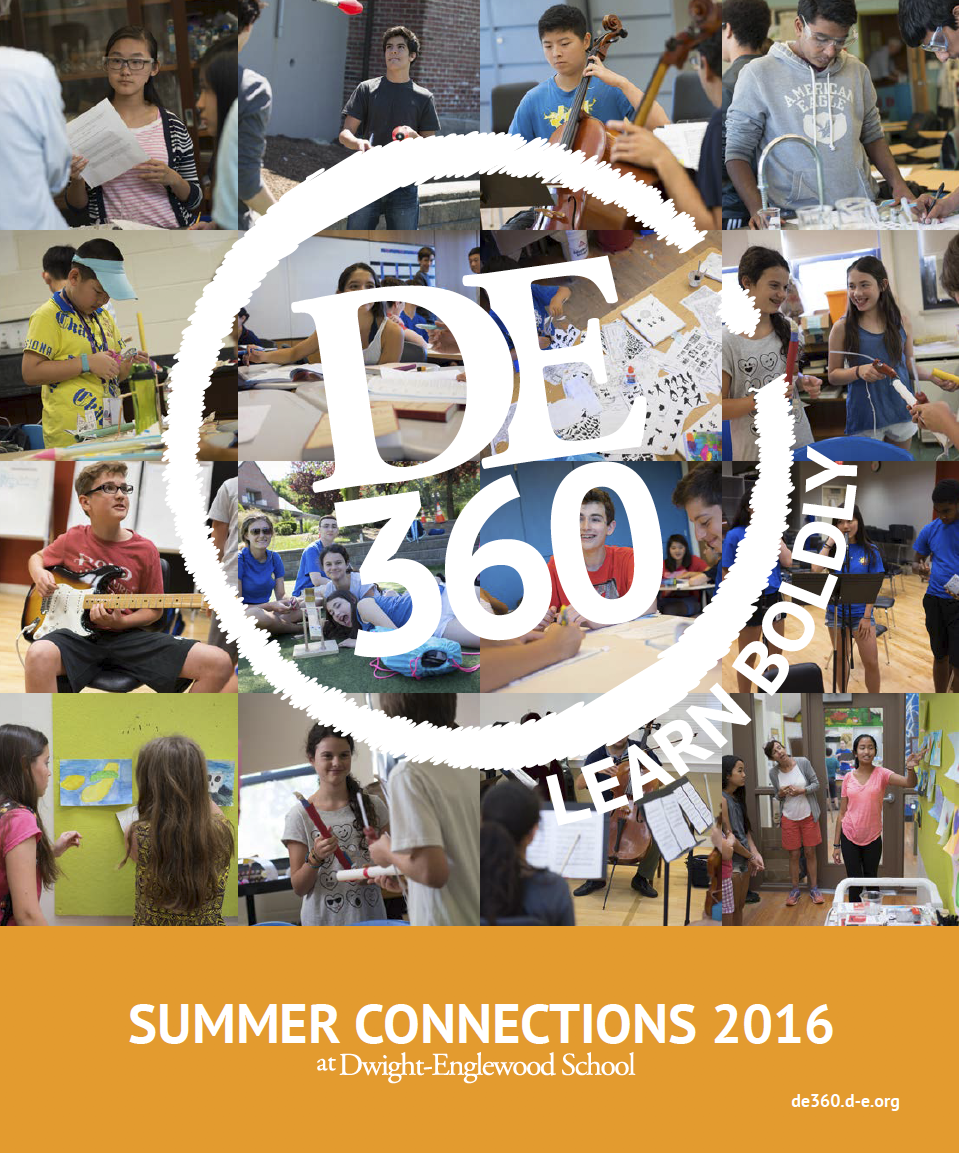 Our NEW! Summer catalog will be available January 2017. For a preview of our Summer 2017 program:
Click here to download our Summer 2016 Catalog
Click here to view Summer Notes 2016 our eNewsletter
Summer Connections 2016 (Archive)
Dear Families,
Welcome to Summer 2016! Summer Connections is now officially underway. Our first day was Monday, June 27, and we are in session through August 12, 2016.
As the new director of Summer Connections, I am thrilled to continue in the tradition of providing outstanding programming that Dwight-Englewood has to offer. Students who enter our campus every summer encounter an enriching environment that stimulates intellectual growth, fuels creativity, ignites imagination, and fosters a path to discovery. What better way to spend the summer than at Summer Connections!
The mission of the D-E Summer Connections program
is to engage learners in the joy of discovery through a variety of experiences. These include:
Enrichment in academics & explorations in the arts
Adventures in sports & healthy living
Leadership development & connections to the global world
Innovative approaches to teaching and learning
Integrated technology in classroom instruction
With the opening of the new Hajjar STEM Center, coupled with world-class faculty and innovative approaches to curriculum design, the academic challenges of the Enrichment Program for middle school and the Scholars Program for high school students will provide leading-edge opportunities for academic advancement. The early childhood Discoveries and elementary school Adventures Programs give our youngest campers an imaginative and joyous experience through thematic exploration of literature, sports, science, nature and getting to know the world around them. Our new Deep Dive Immersives provide experiential learning with students having close collaboration with master level faculty. Deep Dive Immersives generally range from one week to two weeks in length. The students' immersion in the topic of study is long enough to provide a depth of knowledge and skills building in the targeted areas.
There is something for everyone. We offer a rich breadth of courses designed to meet the needs of students on a multitude of levels. Whether you're exploring new topics, developing new skills, or wanting the challenge of advancing to a higher level, Dwight-Englewood Summer Connections strives to deliver outstanding opportunities for engagement in a safe and nurturing environment on our beautiful 45-acre campus.
We invite you to join our community this summer and look forward to seeing you on campus.
Fill out a quick inquiry (https://de360.campmanagement.com/info) form and we'll send you specific information for Summer 2016. And if you want to get a sense of the great Summer Connections happenings now underway, click here to view Summer Notes (http://de360.d-e.org/category/summer-connections/featured-posts/) , our weekly e-newsletter!
Warmly,
Michele Wright
Director of Summer Connections
Dwight-Englewood School
About D-E 360°
Launched in the Fall of 2015, D-E 360° is one of four divisions of Dwight-Englewood School, offering open-enrollment courses for enrichment, advancement, or for credit. Courses are designed to be multidisciplinary in nature offering learning across a variety of disciplines for different age groups (including adults).
Among the D-E 360° core offerings are Lower School AfterCare & Enrichment (ACE), D-E International, DELTA (Dwight-Englewood Learning and Teaching Academy), Spring MasterClasses in Strings and Flute, Middle School Enrichment and Summer Connections. D-E 360° also coordinates the World Game for neighboring school Gifted & Talented Programs as well as serves the greater community with Saturday Enrichment Workshops.
D-E SC 2016 AT A GLANCE
The D-E Summer Connections (SC) faculty is comprised of Dwight-Englewood School teachers and carefully selected educators from other schools.

Small class sizes ensure opportunities for personal attention and the academic progress of each student.

The Summer Connections 2016 program runs from Monday, June 27 through Friday, August 12, 2016. For specific dates and times for all SC 2016 programs, please visit de360.d-e.org.

Generally, Summer Connections programs/classes are offered between 8:15 AM and 3:30 PM.  The Imperatore Library on the upper campus and small gym in Drapkin Hall on the lower campus will open at 8:00 AM for all students arriving before classes begin.  To ensure supervision, students should not arrive earlier than this time.  Drop-off and Pick-up times will be specified according to program/class schedules.

Drop-off and Pick-up for students enrolled in Discoveries or Adventures (Preschool – Grade 4) should be made at Drapkin Hall (driveway access from the Lincoln Street entrance).

Drop-off and Pick-up for students enrolled in Enrichment or Scholars (Grades 5+) should be made by the Imperatore Library (driveway access from the Woodland Street entrance). Please inform the office if your child cannot be picked up by 3:45 PM and needs to register for AfterCare, which is open to children in any age group until 5:30 PM. Repeated lateness when picking up students in AfterCare will result in an additional $40 late fee or dismissal from the Summer Connections program.

At Summer Connections, a part of the experience provided by the school is to set behavioral expectations clearly and to help students learn to follow these expectations. Disciplinary actions are seen as educational rather than simply punitive. Therefore, participants must abide by the rules and regulations outlined in the current Dwight-Englewood School Handbook. A hard copy of this handbook will be made available upon request.
Admissions, Dates & Hours
Admissions to the Summer Connections program are open to all students. The Dwight-Englewood Summer Connections program provides a variety of opportunities for students grades Pre-K through Grade 12 from public, parochial, and independent schools.
A combination of introductory, enrichment, and advancement courses in a number of academic disciplines, the arts, and athletics, allows for diversity of study.
Enrollment/Registration & Fees
Enrollment/registration is available through our website at http://de360.campmanagement.com/enroll.
Once there you will be able to use our Campsite.com online registration system.
Grade levels refer to the grade the child will enter in September 2016. Please complete all sections of the registration in their entirety. Complete registrations include a non-refundable $75 family application fee and a $100 deposit for the course/programs for which you are registering. Final payment is due at least two weeks prior to the start of the program for which you are registering. You will be set up with a user name and password so you can return to the registration form at any time.
Enrollments are limited and accepted on a first-come, first-served basis. If an offering does not meet the minimum enrollment, it may be cancelled. Registrants will be contacted via email and asked to select another offering or refund will be given.
Payment can be made by credit card or electronic check through the online registration system, Campsite. Checks or cash payment will be accepted in the Summer Connections Office located in Leggett 001; however registration will not be complete until full payment is received. Checks are made payable to Dwight-Englewood School.
Additional textbook costs should be expected for academic courses offered through the Enrichment and Scholars Programs. Textbooks are sold on site, but they also may be purchased from any vendor. The textbook title, ISBN and author/publisher will be provided at the time of registration for academic courses. In the cases where there are fees for other course materials or special field trips, the fee amount is provided along with the cost of the course/program in the course descriptions provided.
Confirmation of registration will be emailed when payment is processed. Any additional information about Summer Connections including confirmation of schedules, camp procedures and policies will be sent one week prior to the start of the program.
Enrollment will close one week prior to the first day of a scheduled class/program or once maximum enrollment is reached; early registration is encouraged because availability for every class/program is not guaranteed. Once the maximum enrollment in a class/program is reached, it will be closed to new registrants. In addition, completed medical forms are due before a student can be admitted into any classroom. Those students who do not have all their paperwork on file will not be able to start any classes/programs. Upon request, I-20s for Summer Connections programs will be issued to non-US citizens when full payment of tuition and fees is made.
SC 2016 reserves the right to cancel or change the time of any course; students will not be penalized if the course is cancelled. In the event of cancellation, the Summer Connections staff will work to ensure placement into alternate courses. Tuition and fee refunds will only be issued in the event that a class/program is cancelled.
Fees are noted here in this print booklet for the SC 2016 AfterCare, Discoveries & Adventures Programs, Discoveries & Adventures Special Programs, and Deep Dive Immersives. Fees for the SC 2016 Enrichment and Scholars programs vary depending on the duration of the course. Please refer to our website for specific costs for all the Enrichment and Scholars Programs offerings.
AfterCare
(for any students entering Preschool (age 3) – Grade 8 in Fall 2016)
The SC 2016 AfterCare Program is offered to campers of all ages. Students enjoy a nutritious snack, planned and organized sports and activities, and the use of our computer and library facilities.
Schedule: June 27 – August 12 (Weekly or Daily Enrollment)
Fees: Preschool through Grade 8: $175 per week or $40 per day (3:15 – 5:30 PM) (includes snack)
To enroll your child in the daily AfterCare program, you must call the office before 1:00 PM that day. A $40 fee will be assessed on the child's bill. Children picked up after 5:30 PM will be charged an additional $40 Late Fee. If a child is repeatedly picked up late, he/she will no longer be able to participate in the AfterCare Program. Please call the SC Office at (201) 227-3144 if you have questions.
Closed Campus
The Closed Campus policy means that visitors are not permitted during our summer programs. Any exception to this policy must be arranged in advance. Students are not permitted to leave the campus for any reason other than program-sponsored activities while attending Dwight-Englewood Summer Connections. Students leaving the campus without permission from the Director will be expelled.
Credit
Credit is awarded by Dwight-Englewood School in terms of units. Six units are the equivalent of one Carnegie credit and are awarded to major courses that meet five days a week during the regular academic year. Three units are the equivalent of ½ Carnegie credit and are awarded to minor courses that meet two or three times a week during the regular academic year. If a student wishes to receive credit for summer work, prior approval by that student's principal or guidance counselor is necessary. Course descriptions and syllabi for advancement courses are available upon request.
Enrichment courses allow students to pursue personal interests, to explore new subjects or to strengthen basic academic skills. These courses cover many disciplines including athletics, visual arts, acting, robotics, technology, history, and other topics. Students may take as many Enrichment courses as they wish. Introductory courses are designed for students who want substantial exposure to courses they will be taking in the fall. Students may take one or two introductory courses and should expect to do one to three hours of homework per course daily.
Advancement courses are intense and enable a student to complete a full year's work in a few weeks. Students wishing to accelerate their studies may apply for credit to fulfill graduation requirements or may use the course to fulfill prerequisites for more advanced courses. Students may only take one course for Advancement and should expect to do two to four hours of homework daily. Evaluations consist of the letter grades A, B, C, D and F. Interim grades and comments will be mailed on Wednesday, July 20, 2016. Final grades and comments will be mailed on Friday, August 12.
No credit will be granted to a student who is absent more than three days for any reason. Repeated tardiness will result in the loss of academic credit and/or a lower grade. Independence Day will be observed on Monday, July 4, 2016. No classes will be held that day to celebrate the national holiday. Since the teachers are able to adjust their lessons to deliver the same experience in that week as any other week, the prices are not adjusted. The fee is based on the course offering and not a per diem cost.
Emergency/Health & Medical Forms
All campers are required to have approved and signed Health & Medical Forms on file with the Summer Connections Office. Only children whose Health & Medical Forms are completed are allowed to participate in the SC 2016 programs. The Health and Medical Forms are available through the Campsite registration management system online. Note that a form for physician's signature will need to be downloaded, printed and returned to Summer Connections before the children arrive to campus for summer programs.
Health and Safety
Summer is a great time for our campers, especially those in Grades 5-12,  to explore their passions and interests beyond the norm of the classroom experience.  Our programs, which include everything from gardening to crafts to electronics, provide direct hands-on learning for our D-E 360° Summer Connections (SC)  participants. The safety and security of all our campers is of the utmost concern.  We hope you can help us by speaking with your child(ren) about what they might encounter while they are with us.
 Tools, Equipment & Materials:
Many of our offerings involve working with tools, equipment, and materials that may be new to some students.   Our SC faculty/teaching assistants provide instruction and supervision to ensure Students are using this equipment and materials as safely as possible.   In the event of injury, our SC Director of Health is available to assist.
Pokemon Go:
We are aware that some students are actively playing Pokemon Go on campus during breaks and lunch.  We are monitoring our driveways and campus perimeter to ensure the safety and well being of our students. We would appreciate if you would also talk to your children at home to remind them to be aware of their surroundings and to be cautious when engaging in this activity.
Heat:
With recent high heat indexes (related to high temperatures/humidity), our SC faculty and teaching assistants are especially focused on ensuring that Students stay cool. Please talk with your child about the impact of heat. Should he/she experience any of the following heat related symptoms, the student should reach out to our Health Director immediately: Confusion; Dark-colored urine (a sign of dehydration); Dizziness; Fainting; Fatigue; Headache; Muscle or abdominal cramps; Nausea, vomiting, or diarrhea;  Pale skin; profuse sweating; Rapid pulse/heartbeat.
Hydration:
Recent high heat indexes can also cause dehydration.  Students are strongly encouraged to arrive at camp with water canteens and to refill them often. We also have some re-usable Summer Connections water bottles for purchase.
Water fountainsare located in various locations around the D-E campus.   In addition, there is a water station above Leggett Field.
In addition to staying hydrated, students are encouraged to wear loose-fitting, lightweight clothing in light colors.
SC faculty and teaching assistants are also focused on reminding students to stay hydrated and be attentive to signs of dehydration, including excessively dry lips and tongue, sunken eyes, dizziness and/or loss of energy.
 Sunscreen:
We strongly urge SC parents to apply sunscreen on their children before bringing them to camp.  Older students should consider bringing sunscreen to re-apply during the course of the day.
Food/Meals
Food is available for purchase on campus through FLIK Dining Services. Lunch is only included in the price for those students in the Adventures and full-day Immersive Programs. All other students must either purchase their meals for a few dollars a day or bring their own lunch. For families' convenience, Summer Connections offers a pre-paid account option for campers to purchase lunch and snacks through on-line registration process. The average cost of meals/snacks over the course of one week is $45. The minimum deposit in a pre-paid account is $20. For more information, please contact the Summer Connections Office.
Technology/BYOD Courses
Technology has become part of our program's culture in all classrooms. Over the years, we have had an ever-increasing number of requests for students to bring their own devices to Summer Connections. Since our goal is for all teachers to integrate authentic use of technology in classrooms, we are encouraging students to bring technology to Summer Connections for educational purposes.
Students in classes designated as BYOD will be allowed to bring any laptop that meets minimum requirements or any brand Chromebook. A tablet with keyboard is also acceptable, but we find that the mobile platforms of these devices limit the functionality in some learning activities. Students who enroll in courses designated BYOD must identify during the registration process whether they commit to bringing a personal device to Summer Connections or whether they would need to have the program supply a device for the course.
Students may bring any brand Chromebook. The Chromebook MUST have wireless internet to function. They may also bring a PC laptop with Microsoft Windows 7 or Windows 8 operating system, and minimum 4 GB RAM of memory. Antivirus protection is the owner's responsibility. We currently allow Apple laptops purchased within the last three years. Although iPads and other model tablets are convenient for most purposes, the mobile apps do not provide some of the features needed in class. Because of the potential limitations, we discourage the use of devices with mobile apps in our BYOD-designated classes.
Please be advised that students who bring their own computing devices to camp are responsible for the care and security of those devices. The school will not be held liable for any loss, damage, or theft of students' personal computing devices.
Transportation
Transportation is offered as a weekly service. The cost per student per week for pick up and drop off is $175 per student. There will be bus routes in both New Jersey and New York, including Manhattan in the following communities:
| | |
| --- | --- |
| Ridgewood/Glen Rock River Edge/Teaneck/Englewood | Door-to-Door |
| Closter Cresskill Tenafly | Door-to-Door |
| Woodcliff Lake Old Tappan | Door-to-Door |
| Regional Service: Hoboken Weehawken | Pick Up & Drop Off at the following locations: 1st stop Washington & 15th, Hoboken 2nd stop Port Imperial Blvd & Harbor Blvd., Weehawken 3rd stop ACME Markets, 2160 Lemoine Avenue, Fort Lee |
| Regional Service: NYC East West Side | Pick Up & Drop Off at the following locations: 1st stop on East 96th Street, 2nd Avenue 2nd stop on West 96th Street, Broadway 3rd stop on West 121st Street, Broadway 4th stop on West 178th Street, Ft. Washington Ave |
Students can also elect to take public transportation. From New York City, students can take the A subway line to 175th Street and transfer to the GWB Bus Station located at 4211 Broadway, between 178th & 179th Streets and Fort Washington Avenue. NJ Transit Bus 186 provides access to the Dwight-Englewood School campus.
For more information about transportation or pick-up times, contact a DE360° Team Member in the Summer Connections Office at 201-227-3144 or e-mail us at summerprograms@d-e.org.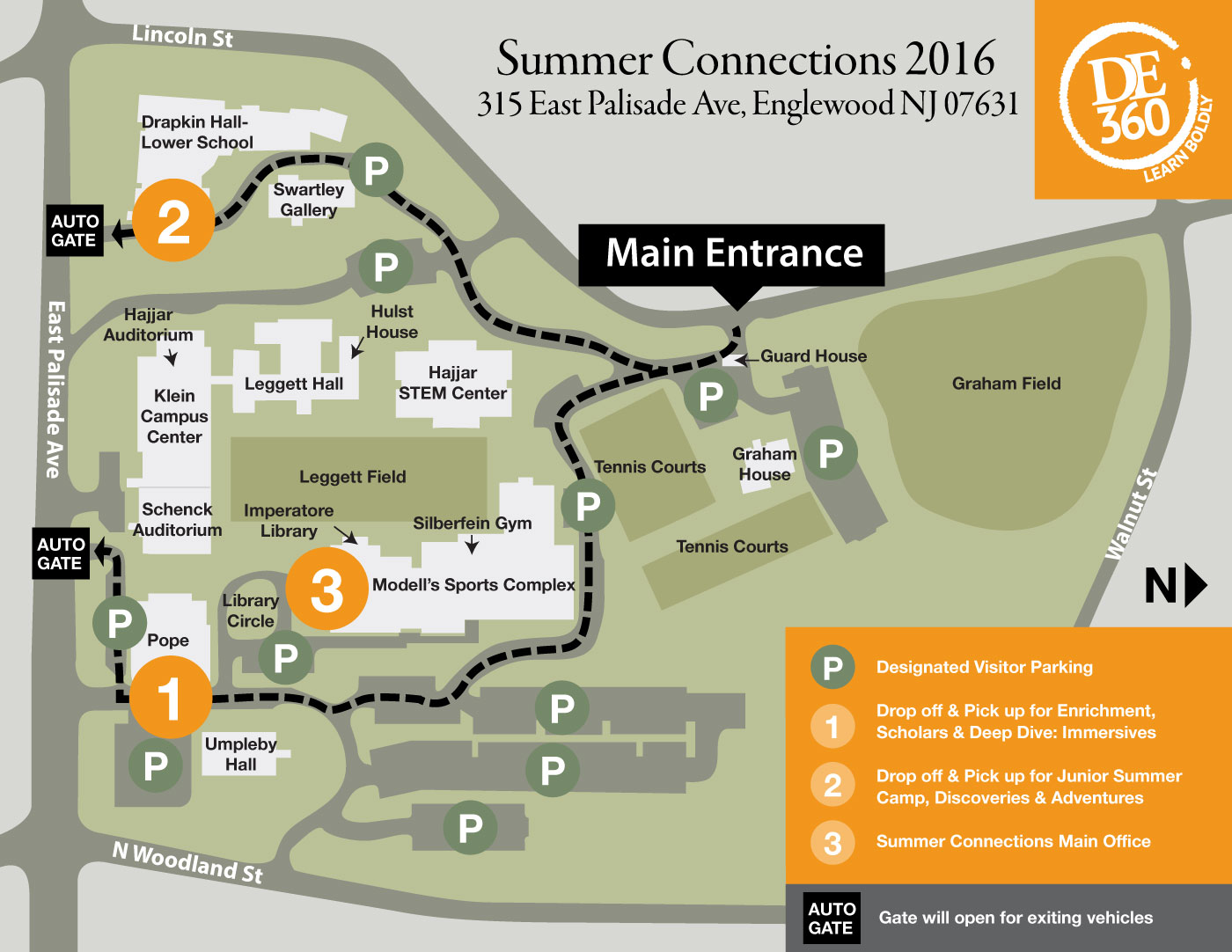 STATEMENT OF NON-DISCRIMINATION
Dwight-Englewood School is a nonprofit corporation and is accredited by the Middle States Association of Colleges and Secondary Schools and New Jersey Association of Independent Schools. Dwight-Englewood School does not discriminate on the basis of gender, race, religion, age, national or ethnic origin, or sexual orientation in its admissions, employment, or the administration of any of its programs.