Oh, The Places You'll Go! – Discoveries & Adventures Deep Dive
From Director Lisa Brown:
What a great kick-off for Summer Connections 2021 Adventures campers! Campers spent the week "trekking" (virtually) through the natural and physical wonders of the world.

Campers loved our Week 1 theme, "The Art of Exploration"! They learned about the attributes and tools of explorers and used their knowledge to set off on their own group discovery missions.

Through play, conversation, song, and working together, the campers began to bond. What a great first week!

Take a look at Adventures this week here.
Assistant Director (Stacy Carella):
From creating passports, to learning songs, campers' hearts and minds became immersed in worlds beyond our classroom windows.

Our Discoveries campers had an opportunity to explore their classrooms and our campus during a sensory scavenger hunt. These thrilling adventures helped the children have memorable experiences here at camp!
A Look at Discoveries This Week
Red Group:
The Red Group had a great week being explorers here on the D-E campus. 

A sensory scavenger hunt was a highlight — campers tried to find various items with different textures and properties. Afterward the campers drew pictures of what they had seen on the adventure. 

Through this exploration of their surroundings, the campers have all made new connections. What an exciting week!
Blue Group:
"Oh The Places You'll Go!" started off our first week for the Blue Group!

After exploring campus with a scavenger hunt, the campers saw their environment through a different lens by designing binoculars. 

It has been a fun-filled week meeting friends and trying new things.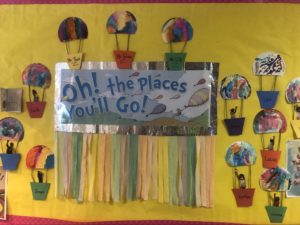 A Look Back on Adventures
Group 1:
Group 1 Explorers had a fantastic first week of trekking!

The campers learned about cardinal and intermediate directions, and their relation to exploring. 

They also virtually saw beautiful U.S National Parks such as the Grand Canyon, and were subsequently inspired to create their own unique national parks. The activities were not only engaging for the campers, but they also helped the children bond with each other. Looking forward to more exciting weeks ahead!
Group 2:
Oh trekking we shall go! This week Group 2 explorers had a blast discovering what you need to go on a trip. 

These discussions included equipment, safety needs, and various vocabulary to provide accurate directions. 

The campers had a great time getting to know each other and we look forward to another amazing week together.
Group 3:
Group 3 had a great first week filled with exploration! The campers were fascinated by the challenges of polar exploration.

They also learned how Inuits use Inukshuks (rock structures) to communicate and made their own on campus. 

Overall, the campers had a fun time bonding with each other, and investigating new things!
Group 4:
The first week of exploring for Group 4 was a huge success! 

Each member of Group 4 created their own board games inspired by Lewis and Clark's journey. 

The campers really enjoyed meeting one another, and are looking forward to more fun in the weeks to come
Imaginarium:
The Discoveries and Adventures campers had an amazing time in the Imaginarium. They explored the outside garden, and used a number of different stations to imagine and model what it would take to explore the world! 

Looking forward to more fun in the weeks to come!
Songs of Summer:
The Songs for Summer class helps campers better know their fellow peers by singing a hello song, clapping rhythms, and incorporating the name of each child. 

Campers are learning to march, gallop, and skip to different rhythms. 

Some of their favorite world songs of the week include 'Zip-a-dee-doo-dah', 'On the Road Again', 'This Little Light of Mine', and 'When Mary Goes Walking'.
Bodies in Motion:
We are so excited to welcome everyone to the 2021 summer athletic season! 

Our campers participate in a variety of fun, age-appropriate activities that provide physical activity as well as memorable summer experiences. These include things like archery, tennis, golf, and yoga. 

After over a year of being cooped up at home, the campers enjoyed trying something different while spending time outdoors with their new friends.