From Sea to Sea, Look at What our Campers Achieved!
A Message from our Director Lisa Brown,
This week, our Discoveries and Adventures campers learned about the fascinating creatures found in the world's oceans and seas. 

The Adventure groups studied the depths of the sea and created representations of the ocean's zones and the creatures found in each area.

For our field trip experience this week, we began our celebration of the Olympics with a Taekwondo presentation by Master Oh and Triumph Taekwondo. Some of our campers even had the opportunity to learn a few martial arts moves and break boards! What a wonderful week we had.
A Message from our Assistant Director,
Stacy Carela:
Our Discoveries campers dove headfirst into a week of exploration and fun as they learned all about ocean habitats and creatures. 

There's something about the ocean that makes it so mesmerizing. Maybe it's the size, the creatures, or its mysterious aura. Either way, the kids really enjoy learning about the ocean and sea life!
Discoveries in the Deep Blue Sea!
Red Group:
It's a good thing we learned all about exploration last week, as this week we took a trip to the ocean! 

We created deep-sea divers, rainbow fish, sharks, crabs, and octopuses. 

Other activities such as Imaginarium, Sounds of Summer, a Taekwondo Demonstration, and a Virtual Field Trip with the Suez Water Company rounded out a great week for the Red Group.
Blue Group:
The Blue Group took a trip "Under the Sea" this week. We sang Baby Shark every day, learned about animals that live in the ocean, and used play dough to create oceans of our own. 

Theme Thursday's Crazy Hat Day was also a big hit.

What a fun week for the Blue group!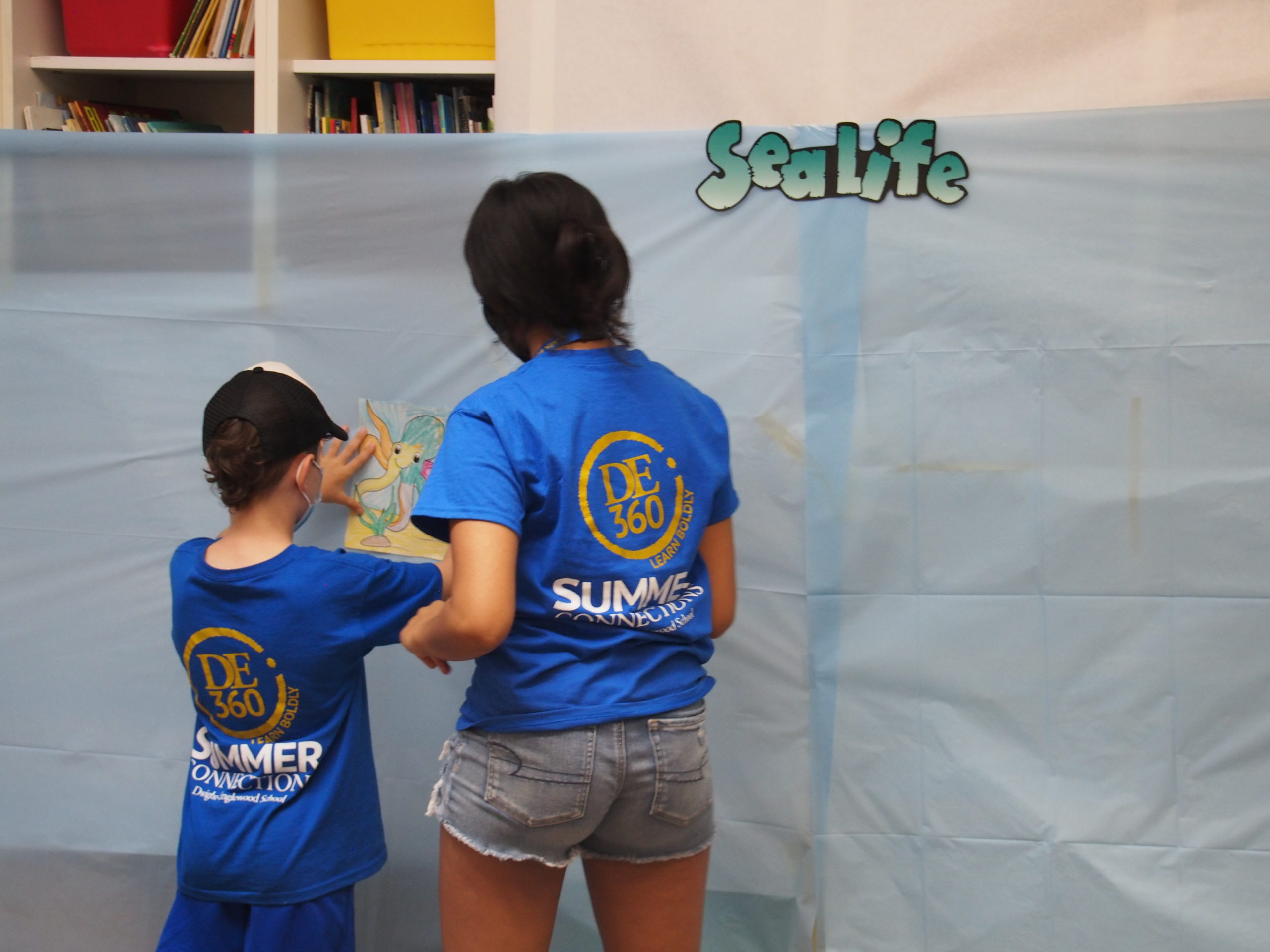 Adventures into the Deep!
Group 1:
This week Group 1 turned into ocean explorers! 

We dived in and learned about the five different oceans of the world and how many layers make up the ocean. We also discussed and created mini versions of our favorite sea animal with model magic. 

Group 1 loved investigating the ocean and many of them feel that one day they will become an ocean explorer!
Group 2: 
Group 2 took a dive into a week of ocean exploration!

Together we created our own classroom ocean with projects that included sharks, jellyfish, eels, squid, octopuses, stingrays, and various other sea life. Individually, students created their own bodies of water. They identified what made it unique, what animals lived there, and how the body of water supported the land around it. 

Way to go Group 2, you took a real splash into learning this week!
Group 3: 
This week, the amazingly creative Group 3 has been focusing on the wide variety of animals and creatures that live in the oceans. With their imaginations, they designed their own made-up sea creatures, all of which are extremely unique and intriguing! 

Collaboratively, we have been creating a massive 36-foot long map charting the wonders of the ocean depths. 

Finally, we are collectively coming up with a wide range of solutions and alternatives that could benefit the ongoing pollution problems harming our oceans. We are looking at the top pollutants, such as plastic bags, soda rings, bottle caps, and straws, and trying to figure out ways in which these objects could be repurposed with positive outcomes!
Group 4:
This week, Group 4 campers scouted the ocean by examining animals, food chains, and food webs. 

Each child then chose one animal from the ocean. They became an expert on that animal by researching and sharing an original presentation with their peers. 

Group 4 campers definitely have a future in marine biology!
Discoveries & Adventures Activities!
Imaginarium:
Time to dive deep into the world of ocean exploration!

Adventures and Discoveries campers had a chance to show off their art, engineering, and coding skills while learning about various ocean ecosystems.

Stations this week included creating seascapes and fish masks, making boats out of recycled materials, coding digital ocean environments, and a lesson about harmful plastics. What a great week of learning and fun!
Songs of Summer:
As we took to the ocean, we continued building on our skills from last week such as moving our bodies with the beat and the rhythms, learning the solfege (do-re-mi) scale, and using our beautiful singing voices! 

The

Discoveries

groups sang and danced with their rainsticks to songs like

If You're Happy and You Know It,

and

Baby Beluga

. The

Adventures

groups learned to sing

Row, Row, Row your Boat

in a round,

Head Shoulders Knees and Toes

in Spanish, and

Under the Sea

with percussion. 

Both groups

had a blast with partner-clapping

A Sailor Went to Sea!
Bodies in Motion:
Each week, D-E 360° Athletics will spotlight one fun physical activity. This week it is fencing! For the majority of the campers, it is their first introduction to the sport.

Fencing is often called physical chess. The sport is mentally engaging, fast-moving, requiring focus and thinking ahead.

Fencing improves overall coordination and posture while providing aerobic exercise and strength training. 

Fencing also engages the imagination as no other sport can. From being a Jedi knight, pirate, musketeer, or Viking, creativity is sparked to devise unique moves and strategies to outwit the opponent. The campers enjoyed learning a new activity!