Details
Course Type: Immersive
Grade Range: 5 - 12
BYOD Course

?

No
Total Price: $1190
Schedule
Week 1
6/24 - 6/28
Week 2
7/01 - 7/05
Week 3
7/08 - 7/12
Week 4
7/15 - 7/19
Week 5
7/22 - 7/26
Week 6
7/29 - 8/02
9:00 am - 4:30 am
Private Lessons, Master Class, Materials & Lunch included
A limited number of scholarships are also available. Inquire directly to de360info@d-e.org
String Society is a summer day camp program for exceptional string musicians Grades 5-12!
Our program features a fun-filled week of musical magic, offering an immersive, intensive opportunity to explore gems of the string orchestra repertoire while being introduced to music by living composers. Click here or the above player to view highlights from String Society 2017 and 2018!
June 24 – 28, 2019:  Learn, create, perform… and jump start your musical summer with String Society 2019!In addition to orchestra and chamber experiences, students will also take part in sectionals, an improvisational workshop, and mindfulness activities such as yoga. Students will also take two private lessons with the esteemed faculty. String Society culminates with a Grand Finale Concert, on Friday, June 28, 2019.
NEW for 2019! Announcing our Summer 2019 guest artist: Sarah Whitney
String Society is thrilled to announce that the critically-acclaimed Sarah Whitney will work with students this Summer 2019 in small ensemble sessions, and will be featured in the Grand Finale Concert!
Sarah has extensive teaching experience and regularly gives master classes and workshops to students of all levels.  Sarah is recognized as a pioneer in changing the perception of classical music and the way it is presented; in 2015 she founded Beyond the Notes, an innovative concert series that breaks down the boundaries between the audience and the performers. Sarah also performs regularly in the Seeing Double Duo with acclaimed violinist Julia Salerno, having been featured on the Rochester Chamber Music Society, New York City House Concerts and the First Parish Concert Series. Sarah is co-founder of the Jingle Punks Hipster Orchestra that has been featured on Mashable, Perez Hilton, Revolt TV, as well as with the rapper NAS in Johannesburg, South Africa.
NEW for 2019! Concerto Competition open for violinists.
The winner(s) will be featured as a soloist with the String Society Chamber Orchestra on the Grand Finale Concert. If you are interested in participating, please prepare this excerpt of Vivaldi Concerto in addition to your audition music.
KEY DATES:
NOTE: All candidates must apply online. To submit an Application to Audition for String Society 2019, click here.

Auditions: Monday, April 29 and Tuesday, April 30, 2019: 3:30 – 7:00 PM, Hajjar Auditorium (2nd floor Klein Campus Center),Dwight-Englewood School,

315 E. Palisade Ave., Englewood, NJ 07631

 

Audition requirements: One 3 octave scale and one 3 octave arpeggio of your choice. One solo piece of your choice. Memorization is recommended but not required.  

Camp in Session: June 24-28, 2019 Grand Finale Concert on Friday, June 28, at 3:00 p.m. in Hajjar Auditorium, Klein Campus Center
* If applicants are unable to attend an Audition in person, a video recording may be emailed.  Video recordings may be emailed to Annaliesa Place at placea1@d-e.org. 
WHAT OUR STUDENTS SAY
"I have been in String Society for three years now. Every year, I come back in hopes of reuniting with old friends, making new friends, and strengthening my technique. This one week program has helped me grow, and the memories I have made are priceless. I am sure that when I go to college next year, I will greatly miss the amazing memories and experiences that I have had over the past three years."
– Michael S. Montenegro, Dwight-Englewood School '18
'It was an amazing experience playing with extraordinary students, [including] learning how to play in an orchestra and string quartet.  I learned a lot about the violin from Ms. Place and Mr. Garcia. This was my first music camp and it was a lot of fun!'
– Helena Seo, Dwight-Englewood School '21
"String Society is a camp where musicians from elementary school all the way through high school can come together to share a love of music for a week. Over the years, I have made friends with many other campers by participating in the music, sports, or other activities offered during the week. Once I am in college in two years, I am sure that I will cherish the many memories I have made at String Society."
– Dylan Melisaratos, Dwight-Englewood School '18
"String Society was one of the best musical experiences I have ever had. This camp was fun, and I learned so much in just one week. Also, the conductors were great!"
– Emilia Gessmann George Washington MS, Ridgewood, NJ '17
ABOUT OUR DIRECTORS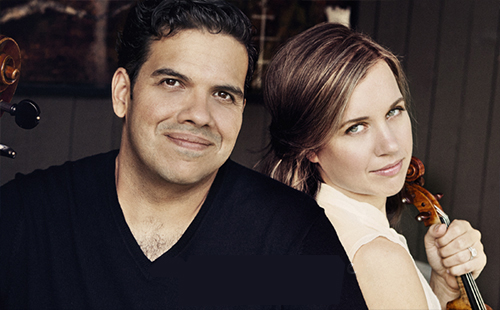 Diego Garcia (Associate Director of Strings/Conductor) Born in Cali, Colombia, he entered the Antonio Maria Valencia Conservatory at the age of five, where he began his musical studies in piano, cello, and conducting. This set the stage for a multifaceted career as performer, conductor, and educator. Over the past decade, Diego has become a sought-after composer for instrumental and choral works. His music has been broadcasted several times on NPR's 'Live from Hochstein'. Recent commissions have included the original score to the independent film Heart of Tango, Rochester Oratorio Society, and Gibbs & Main. Currently, Diego is a conductor and cello instructor at D-E and he also serves as Orchestra Director of the JCC Thurnauer School of Music Symphony Orchestra.
Annaliesa Place (Director of Strings) Annaliesa performs across the United States and abroad with ECCO, Classnotes, Traveling Notes, ACJW, Absolute Ensemble and Metropolis Ensemble. She has recorded albums with Absolute Ensemble for Sony Classical and ECCO for eOne Records. Annaliesa is also founder, faculty advisor and creative director for StringJam, Dwight-Englewood Upper School's elite conductor-less string ensemble, which has performed twice at Carnegie Hall.
Together, Mr. Garcia and Ms. Place are Bowstruck, a dynamic violin/cello duo that creates a unique voice with original compositions and arrangements of the classics. In Summer 2017 they co-directed an international music festival in Switzerland on behalf of the Juilliard School.  For more details visit www.bowstruck.com
FACULTY
Ella Heifets, violin

Ani Kalayjian, cello

Salley Koo, violin

Adda Kridler, violin/viola

Everhard Paredes, violin

Karen Poleshuck, cello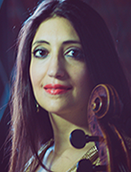 Ani Kalayjian (Cello) Hailed by the Los Angeles Times as "representing the young, up-and-coming generation," and a "superb cellist with a large, expressive, singing tone, passionate musicianship, and magnificent playing" by the Journal Tribune, Armenian cellist Ani Kalayjian enjoys a prolific career as a soloist, recitalist, chamber musician, educator, and musical ambassador that has taken her to Japan, Australia, Canada, the Middle East, and throughout Europe and the United States. Newly appointed Chair of Music at the Woman's Club of Englewood, Ani's chamber music series starts in the 2018-2019 Concert season in Englewood, NJ. Ani received an M.A. with Distinction from the Royal Northern College of Music in England as a student of Ralph Kirshbaum and a B.A. from the Mannes College of Music as a student of Timothy Eddy. A passionate music educator, Ani is the head of the Cello department at the Elisabeth Morrow School, and her students most recently opened up for Yo Yo Ma and the Silk Road Ensemble at NJPAC in Newark, New Jersey as well as Itzhak Perlman at BergenPac in Englewood, NJ. Keep up with Ani's upcoming concert dates and news at www.anikalayjian.com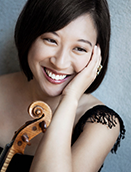 Salley Koo (Violin) Salley Koo began her violin studies at the age of 5.  She has been lucky enough to study with many famous people at many famous schools. Ms. Koo performs all over the world with very cool people of varying degrees of fame and tries to get along famously with her colleagues and her own students.  She now lives in Park Slope, Brooklyn, with her husband and their very cute dogs.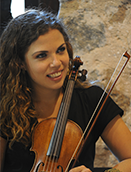 Adda Kridler (Violin/Viola) Described by the New York Times as "lyrical and precise", Adda Kridler has established herself as a musician and educator with a unique and versatile voice. Adda thrives in the rich diversity of the New York music scene; recent highlights include performances with the Mark Morris Dance Group, Hamilton and Dear Evan Hansen on Broadway, a trip to Cuba with Third Sound Ensemble, and a tour with the iconic singer Adele. She graduated cum laude from Harvard University studying cognitive neuroscience, and completed​ her musical studies at the New England Conservatory.