Details
Course Type: Immersive
Grade Range: 5 - 12
BYOD Course: No
Price: $1250
Schedule
Week 1
6/29 - 7/2
Week 2
7/6 - 7/10
Week 3
7/13 - 7/17
Week 4
7/20 - 7/24
Week 5
7/27 - 7/31
Week 6
8/3 - 8/7
9:00 am - 4:30 pm
Private Lessons, Master Class, Materials & Lunch included *
---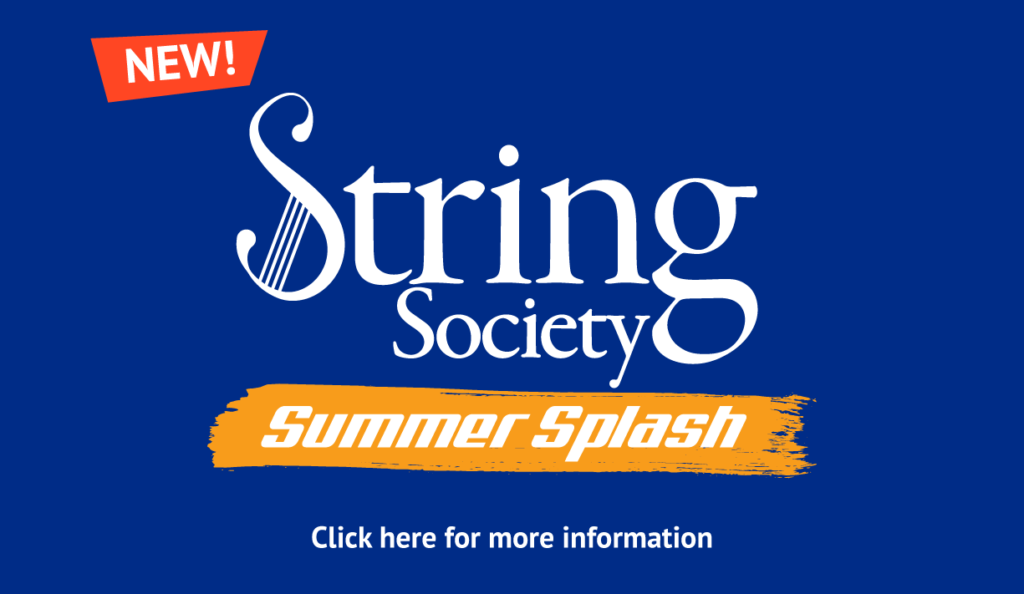 ---
New dates:

Monday, August 3 – Friday, August 7
Sunday, June 28 through Thursday, July 2
String Society is a summer day camp program for exceptional string musicians Grades 5-12!
Learn, create, perform… and jump start your musical summer with String Society 2020! In addition to orchestra and chamber experiences, students will also take part in sectionals, an improvisational workshop, and mindfulness activities such as yoga. Students will also take two private lessons with the esteemed faculty. String Society 2020 culminates with a Grand Finale Concert, on Friday, August 7, 2020.
This year, String Society 2020 is thrilled to announce our guest artist, Joe Deninzon (electric violin). See below for details and to also learn about our guest faculty! 
KEY DATES:
NOTE: All candidates must apply online. To submit an Application to Audition for String Society 2020, click here.
Registration Deadline is May 22.

Zoom auditions: May 26 and May 27.

Audition requirements: One 3 octave scale and one 3 octave arpeggio of your choice. One solo piece of your choice. Memorization is recommended but not required.  

Camp in Session: Monday, August 3 – Friday, August 7. 
* If applicants are unable to attend an Audition in person, a video recording may be emailed.  Video recordings may be emailed to Annaliesa Place at placea1@d-e.org.
WHAT OUR STUDENTS SAY
"I've been performing in String Society for the past four amazing years! It's a great way to start my summer and I always look forward to the phenomenal pieces that we get to practice and perform. While the pieces are certainly challenging, the faculty at String Society is incredibly helpful and catalyze our growth as an orchestra during the entire week." 
Peter, Trinity School '21
"String Society has been a great camp experience! Each year I feel that by the end of the week, I have improved my playing so much, and am given many opportunities including a solo performance, private lessons, orchestra, and chamber. The days also include free time when you can practice or participate in activities. It is really a fun and exciting week that I always look forward to." 
Talia, Hackley School '24
ABOUT OUR DIRECTORS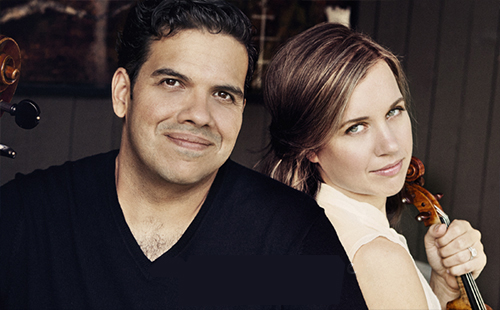 Diego Garcia (Associate Director of Strings/Conductor) (Cello) Born in Cali, Colombia, he entered the Antonio Maria Valencia Conservatory at the age of five, where he began his musical studies in piano, cello, and conducting. This set the stage for a multifaceted career as a performer, conductor, and educator. Over the past decade, Diego has become a sought-after composer for instrumental and choral works. His music has been broadcasted several times on NPR's 'Live from Hochstein'. Recent commissions have included the original score to the independent film Heart of Tango, Rochester Oratorio Society, and Gibbs & Main. Currently, Diego is a conductor and cello instructor at D-E and he also serves as Orchestra Director of the JCC Thurnauer School of Music Symphony Orchestra.
Annaliesa Place (Director of Strings) (Violin) is a passionate performer and educator.  She performs across the United States and abroad with various ensembles including the East Coast Chamber Orchestra (ECCO).  She is featured on recordings with Absolute Ensemble for Sony Classical, ECCO for EOne Records, and Sting's album Symphonicities.  She is also featured in the 2019 Warner Bros. Movie, Western Stars with Bruce Springsteen. Annaliesa has also performed and recorded with Peter Gabriel, Stevie Wonder, The Roots, Michael Bublé and Paul McCartney, among others.  Ms. Place was featured in the Cleveland Orchestra's first video conference with Alan Gilbert and was hailed by the Cleveland Plain Dealer as 'the epitome of poise and intelligence.' She is the Director of Strings at the Dwight-Englewood School in Englewood, New Jersey where she founded StringJam, a conductor-less string orchestra.  As a curriculum consultant and lead teacher for Juilliard's Global K-12 Programs, Annaliesa teaches at Summer Arts with Juilliard in Geneva, Switzerland. Along with her husband, cellist Diego Garcia, they formed Bowstruck and made their debut on top of Aspen Mountain in June 2014. Ms. Place received a B.M. from Peabody Conservatory of the Johns Hopkins University and a M.M. from The Juilliard School.  Her principal teachers have included Vasile Beluska, David Russell, David Updegraff, Victor Danchencko, and Robert Mann.
ABOUT OUR FACULTY
Annaliesa Place, violin/viola

Diego Garcia, conductor/cello

Ella Heifets, violin

Adda Kridler, violin/viola

Kyungha Ko, violin

Everhard Paredes, violin

Jinah Lee, violin

Ani Kalayjian, cello

Seojin Yang, cello

Pedro Giraudo, bass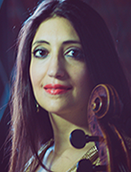 Ani Kalayjian (Cello) Hailed by the Los Angeles Times as "representing the young, up-and-coming generation," and a "superb cellist with a large, expressive, singing tone, passionate musicianship, and magnificent playing" by the Journal Tribune, Armenian cellist Ani Kalayjian enjoys a prolific career as a soloist, recitalist, chamber musician, educator, and musical ambassador that has taken her to Japan, Australia, Canada, the Middle East, and throughout Europe and the United States. Newly appointed Chair of Music at the Woman's Club of Englewood, Ani's chamber music series starts in the 2018-2019 Concert season in Englewood, NJ. Ani received an M.A. with Distinction from the Royal Northern College of Music in England as a student of Ralph Kirshbaum and a B.A. from the Mannes College of Music as a student of Timothy Eddy. A passionate music educator, Ani is the head of the Cello department at the Elisabeth Morrow School, and her students most recently opened up for Yo Yo Ma and the Silk Road Ensemble at NJPAC in Newark, New Jersey as well as Itzhak Perlman at BergenPac in Englewood, NJ. Keep up with Ani's upcoming concert dates and news at www.anikalayjian.com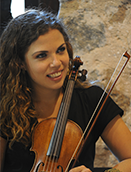 Adda Kridler (Violin/Viola) Described by the New York Times as "lyrical and precise," Adda Kridler has established herself as a musician and educator with a unique and versatile voice. Adda thrives in the rich diversity of the New York music scene; recent highlights include performances with the Mark Morris Dance Group, Hamilton and Dear Evan Hansen on Broadway, a trip to Cuba with Third Sound Ensemble, and a tour with the iconic singer Adele. She graduated cum laude from Harvard University studying cognitive neuroscience, and completed​ her musical studies at the New England Conservatory.
Seojin Yang (Cello) Born and raised in Seoul, South Korea, Seojin Yang studied at Yonsei University. As a proud graduate, she won the Yonsei University's concerto competition. Her passion for music continued her to study Master's degree at Mannes College of Music in New York with Marcy Rosen, and Doctoral degree at Rutgers University in New Jersey with Jonathan Spitz. Seojin Yang, doctoral candidate, has performed solo recital at Weil Recital Hall in Carnegie Hall and has the title of Artisti International Competition Winner. She also performed chamber music with prestigious artist including Arnold Steinhardt. Her festinating musical performance can be seen on Youtube as well. Her achievements are well acknowledged as the Assistant Principal Cellist of Philadelphia Virtuosi Chamber Orchestra, the former faculty at the Chopin Institute and the current co-director/chair of the cello section of NJ Arco Youth Chamber Orchestra. Seojin is an educator as well. She has more than 15 years of teaching experience in and out of orchestra settings with the certificate of excellence for music education,  Golden Key Music Festival from New York. She is currently a cello faculty teaching students at Elisabeth Morrow School in NJ.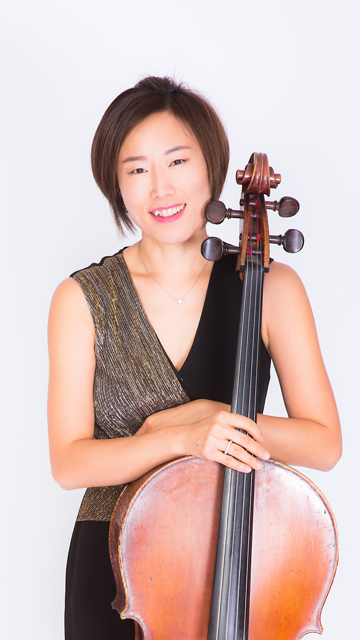 Kyungha Ko (Violin) Hailed by String and Bow Magazine as "a violinist with lots of colors and humor" and "young and vibrant sound", Violinist Kyungha Ko made her first solo appearance at the age of 13 with Seoul Royal Symphony Orchestra performing Mozart's fifth violin concerto.  Over her career, Ms. Ko has made frequent solo performances and recitals in the U.S. and Korea including with Seoul National Symphony, Moscow Arco Chamber Orchestra. She was also invited to perform Vivaldi's concerto for four violins with virtuoso violinist Mark Peskanov with Manhattan Symphonie at the Barge Music and St. Gregory's Church in New York, and as a soloist for concert series at The Players Club in New York. She also has performed numerous chamber music concerts in tri-state area including Carnegie Hall, Barge Music, United Nations, Newark FBI Field Office, and Korean Cultural Center as well as Korean President Park's visit to New York in 2013.
Ms. Ko, born in Korea, moved to New York at the age of 16 to study with Patinka Kopec and Grigory Kalinovsky at the Manhattan School of Music, where she received her Bachelor of Music and Master of Music degrees.  During her academic years, she served as an assistant concertmaster of Opera Orchestra and Jazz Philharmonia. Ms. Ko has won Lillian Fuchs Memorial Chamber Music competition, and played in Rafael Piano Trio Masterclass. She also has won the New York String Teacher's Association Competition, and performed at Carnegie Hall.  During the summers, she has participated in the prestigious Perlman Music Program, and The Heifetz International Music Institute as a full scholarship student.
As an active orchestra musician, Ms. Ko has worked with internationally acclaimed conductors such as Kurt Masur, Pierre Boulez, Charles Dutoit, Sir Colin Davis, David Robertson, Itzhak Perlman, among others.  Ms. Ko had been a member of Westchester Chamber Symphony, Delaware Symphony, and Opera Delaware. She also has performed with New York Philharmonic, New Jersey Symphony, Allentown Symphony, New Jersey Philharmonic, and Bachanalia Ensemble. She frequently performs with Baltimore Symphony wchich she was invited to their 2018 European Tour to Edinburgh Festival, BBC Proms, and Dublin International Festival.
 As a passionate educator, she has been a faculty at Mahanaim College in Huntington NY, Luzerne Music Center, and Center Stage Strings. Her students have won many competitions and college auditions such as Manhattan School of Music, Mannes School of Music, Rice University, and La Guardia High School of Music and Art. Ms. Ko is currently a faculty member at Thurnauer School of Music, and teaching at Mannes School of Music as a teaching assistant to Michelle Kim, the assistant concertmaster of New York Philharmonic.
MORE ABOUT JOE DENINZON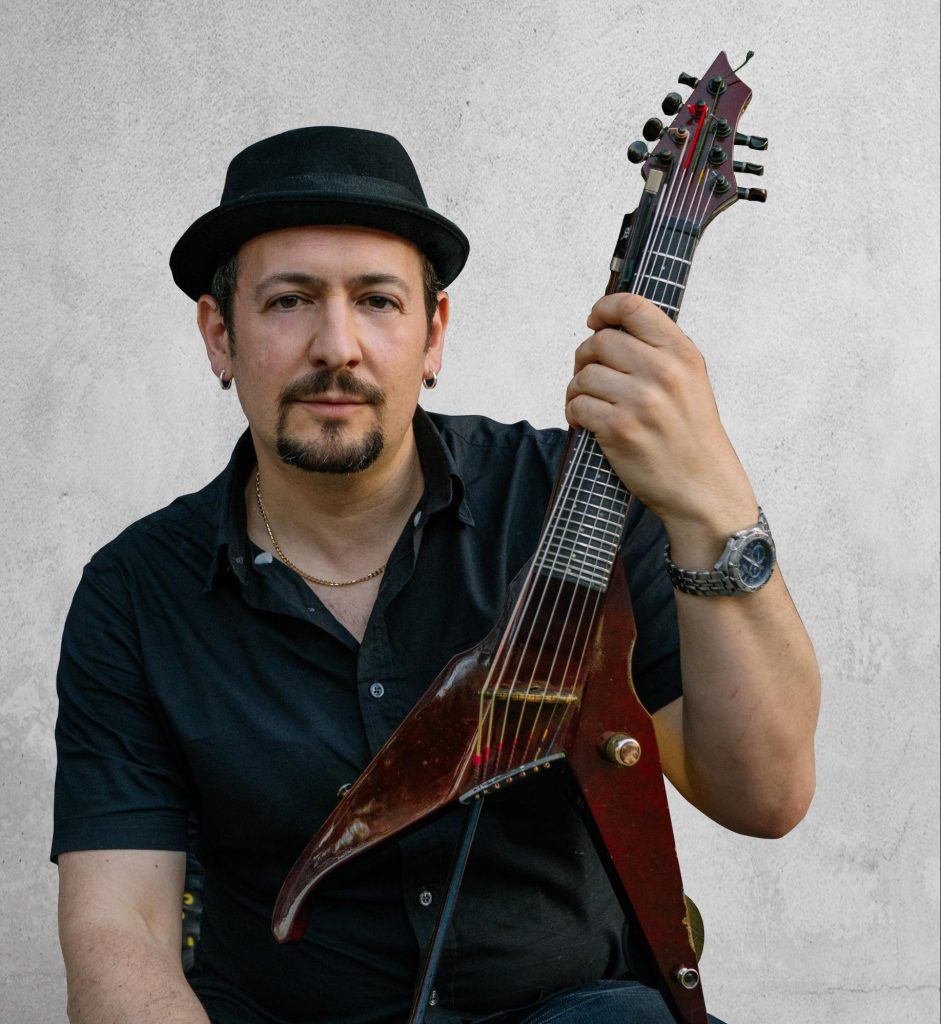 Joe Deninzon (https://joedeninzon.com/) has been hailed by critics as "The Jimi Hendrix of the Violin," because of his innovative style on the "Viper" seven-string electric violin. Joe has worked with the Who, Bruce Springsteen, 50 Cent, Sheryl Crow, Ritchie Blackmore, Alex Skolnick, Smokey Robinson, Les Paul, Peter Criss from KISS, Renaissance, Phoebe LeGere, Kurt Elling and as a soloist with Jazz at Lincoln Center and the New York City Ballet.
Joe is the lead singer and violinist for the progressive rock band, Stratospheerius (www.stratospheerius.com), which has toured and released 6 albums to critical acclaim. He can be heard on over a hundred CDs and jingles as a violinist and string arranger. A BMI Jazz Composer's Grant recipient and winner of the John Lennon Songwriting Contest, he has written a solo piece for renowned violinist Rachel Barton Pine, and in 2015, premiered his Electric Violin Concerto with the Muncie Symphony Orchestra.
Joe is also a member of the Sweet Plantain String Quartet (www.sweetplantain.com), which combines Latin Jazz with hip-hop and Classical music, and has toured throughout Europe and the U.S. Joe has released a CD with his Acoustic Jazz Trio, titled "Exuberance."
As an educator, Joe has taught at Mark O'Connor's String Camp and Mark Wood's Rock Orchestra Camp, and makes annual appearances performing at the Grand Canyon Music Festival with renowned harmonica virtuoso Robert Bonfiglio. In 2006, Joe co-founded the Grand Canyon School of Rock, an annual music program for local high school students. He regularly travels as a clinician and has contributed articles to Strings, Downbeat, American String Teachers Journal, and Making Music Magazine. In 2012, Joe wrote a book on electric violin techniques for Mel Bay Publications, titled "Plugging In." Joe has made the Downbeat Critic's poll for "rising stars" in jazz/rock violin. Chris Haigh's book, "Discovering Rock Violin," lists one of Joe's recorded solos among the "Top 20 greatest rock violin solos of all time."
Joe holds Bachelor's degrees from Indiana University and a Master's from Manhattan School of Music. 
*A limited number of scholarships are also available. Inquire directly to de360info@d-e.org