A Professional Development Workshop for STEM Teachers
July 14-16, 2020 *
8:00 AM – 3:30 PM
Hajjar STEM Center, Dwight-Englewood School
Description: This workshop will empower Grade 4-12 teachers to infuse making into their STEM curriculum. Participants will be immersed in coding, electronics, and design thinking.
We guarantee that you have never been to a workshop like this before. Teachers will learn by doing as they roll up their sleeves and work hands-on in an intensive 3-day Project-Based-Learning / Makerspace environment to invent and innovate robotic inventions using the BBC Micro:bit as well as other popular tools for making and inventing such as 3D printing and laser cutting.
Teachers will explore topics from the student perspective as they experience an immersive Project-Based Learning approach to inventing and design. Cutting edge tools will empower even novice participants to bring their imagined ideas to life! Later in the week, we will join a student version of the workshop to get a first-hand glimpse into how these tools and lessons work in a real classroom.
Participants will explore how the teaching of technology can interact with the physical world, how to develop curricula around problem solving as well as other critical skills, and how to maximize on resources that give students a deep immersion with technology.
Participants will gain skills in developing Project Based Learning (PBL) as well as be introduced to new teaching technologies. A Certificate for professional development hours will be distributed to each individual participant who completes the workshop.
This session is limited to twenty (20) participants and will be held in the international award-winning Hajjar STEM Center.
Teachers will leave well-equipped and with the confidence to design and facilitate Makerspace projects that foster independent, hands-on learning
After students are dismissed each day, adult participants are welcome to stay and practice skills or work on something they are interested in.
Schedule (sample)*:
8:20-10:00 Micro:bit Introduction
10:05-10:55 Tinkercad Introduction
11:00-12:50 PBL Design Workshop
12:55-1:25 Lunch
1:30-2:30 Facilitate Student Projects
2:30-3:30 Debrief on Work with Students
3:30-4:30 Instructors available for questions and follow-up
Workshop Fee:  $975 per participant.  Breakfast and lunch included.
 Skills Participants will learn:
Block-Based Coding
Fundamental Electronics (circuits, LEDs, Motor control, Sensor input)
Digital Fabrication – 3D printing and laser cutting
Microcontroller programming using the BBC Micro:bit
There are lots of workshops that can teach you how to use tools. This workshop emphasizes how to design instruction to foster student innovation.
"STEM Institute participants will learn to use authentic tools and technologies to empower student innovation and engage their critical thinking. We will do amazing things with very simple, inexpensive resources that provide a deep dive into STEM learning. Participants will also gain skills in developing Project Based Learning (PBL) activities that they can put to work in their classrooms on Day 1."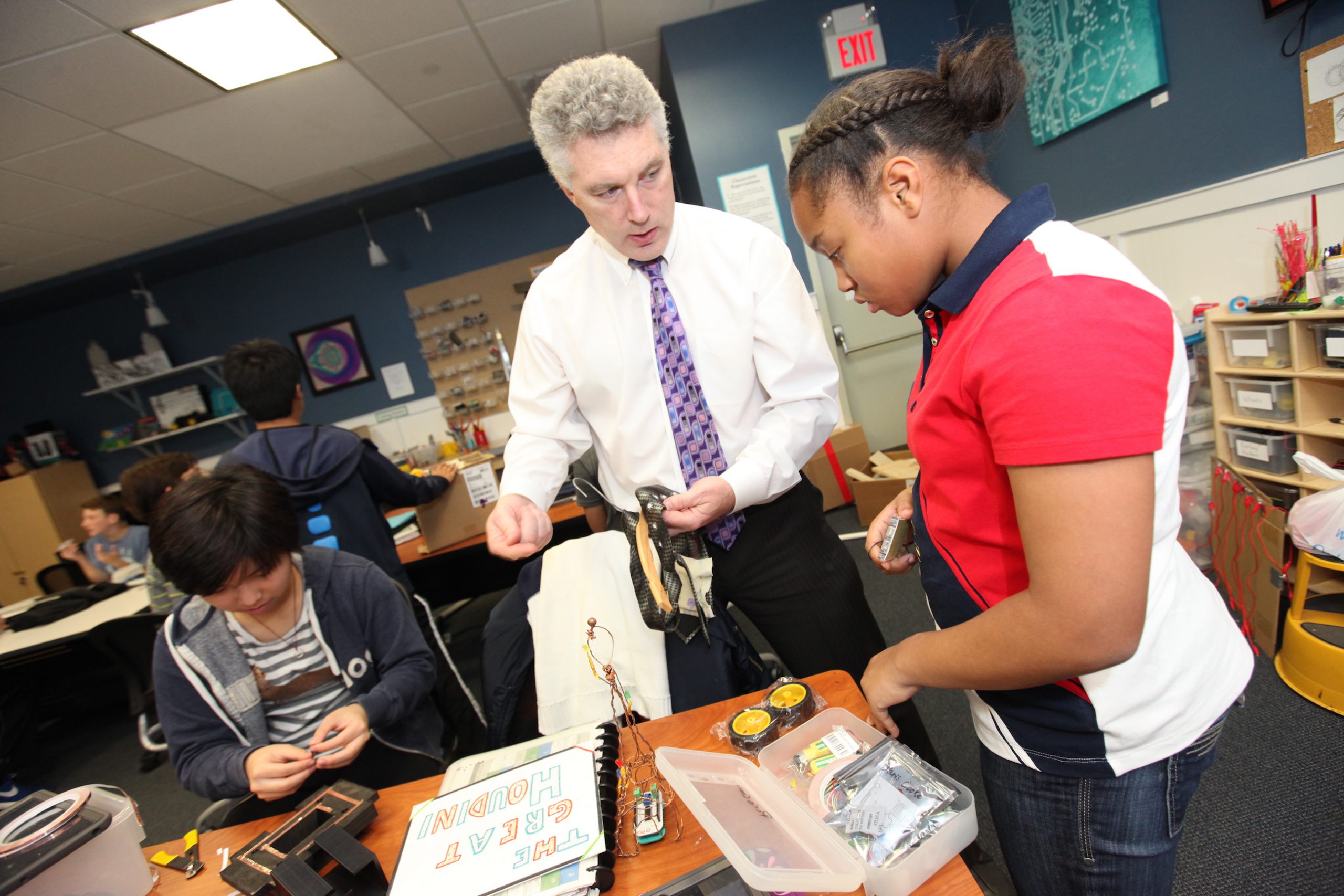 TREVOR SHAW
DIRECTOR OF TECHNOLOGY
President and Founder of Genesis Learning, Trevor Shaw has been helping schools to leverage the power of technology as a learning tool since 1992. Trevor is the Director of Technology at Dwight-Englewood School. He has designed the technology infrastructure and championed the plans for integrating technology into the curriculum. He has also worked as a classroom English and technology teacher. He has consulted for dozens of other institutions and served on the Board of Education of an outstanding New Jersey school district.
*Please note: Schedule subject to change. Participants will be notified of any changes prior to and during the workshop, if/as needed.