Dear Families:
We had a particularly wonderful "Week 3" here on the D-E campus! We were caught up in great delight celebrating "kindness" (in honor of the American Camp Association's annual Camp Kindness Day), as well as the start of the Summer Olympics in Tokyo. 
The Olympics are highlighted as the event in which the world comes together, but we think it's pretty evident that our Summer Connections community is also a special place that represents so many aspects of our world today. Our STEM Leadership Immersive Program campers explored learning about design and assistive technology through the lens of empathy.  They visited via Zoom with Glenn Garrison, the head prosthetist at the Hospital of Special Surgery who has worked with Albanian refugees. A special thank you to D-E Registrar Mimoza Necaj for connecting us with Mr. Garrison. Next week, these campers will begin designing their selected projects, working toward their STEM Leadership Expo showcase event on Friday, July 30.  
For our youngest campers in Discoveries and Adventures (D&A), Durkan Fencing Academy visited campus to offer fencing demonstrations. The children learned about the true art of competition as well as the importance of good sportsmanship. We loved hearing the children chant "en garde!" We definitely know that they're moving towards great action.  Another highlight this past week was our D&A "Torch of Kindness" Parade.  We had the privilege of having our summer program's assistant director, Catherine Augustine, lead the Parade using the same torch that her brother, Steve, carried in the 2004 Olympics. Steve epitomized our "learn boldly" objective, and was a dedicated educator and coach who became a paraplegic later in his life and sadly passed away within the last year. The Parade was a wonderful way for our community to honor Steve's life and celebrate his legacy.
Our Scholars students entered this week of midterms with tremendous success.  We are quite proud to see the extraordinary work effort of our students who are taking intensive academic classes in the sciences, coding and math.  We continue to wish them well with all their work as they head into the home stretch.  
This is certainly a summer for bold learners of all ages.  As "Week 4" is on the horizon, we look forward to welcoming String Society 2021 campers for their 14th summer festival on campus. The Grand Finale Concert, at 12:30 PM on Friday July 30, will be live-streamed.  (The audience for the live performance on campus will be limited to our String Society participants' families).  We will provide the link for streaming next week. This is certainly a can't-miss virtual event! 
Finally a special shoutout to all our D-E 360° Summer Connections faculty and staff, for making every moment on campus this week both fun and meaningful. With their leadership, our campers are engaged in our programming with both their hearts and minds, making meaningful memories in the process. 
Important Note: The upper campus Health Suite has moved to Modell's. Participants may access it by walking through Silberfein Gym (please see Gallery for reference).
Best wishes,

Sherronda Brown
Director of D-E 360°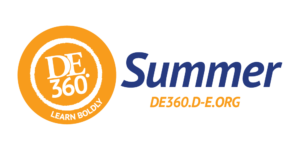 For New & Returning Families, here are some quick links to get you settled into next week:
Health Director Welcome Letter
STEM Leadership & Environment Conservation
Seussical, JR. Musical Theatre Production
USTA Sponsored Tess Fest – Saturday, Aug 14, 2021
Invite Your Friends to Summer Connections: Openings for Weeks 5 & 6
If you'd like to invite family and friends to join you in your Summer Connections experience for Weeks 4 and beyond, please share our program information.  Our Summer Connections programs run through August 13.  Families may still register for the final two remaining weeks (space permitting August 2 through August 13) There are a few seats available in Discoveries, Adventures, Seussical, JR. Musical Production, Meta Up High School Prep, Family Gardening (on campus), and one-to-one music lessons.  
Staying Connected
We have a phenomenal summer team who are available to help.  Simply email us at de360info@d-e.org with any questions or concerns.  In addition, individual program directors will be reaching out to you each week with specifics about the programs for which you are registered.  Meet our Directors & Operations Team.