Dear Families,
We had a particularly great Week 4! We've enjoyed the return of String Society for its 14th season on campus, the tremendous Leggett Field outdoor obstacle course created by our Athletics Team, the special STEM Leadership virtual visits with Diane Brancazio from the MIT Edgerton Center and Backyard Brains Research Fellows, and our Discoveries and Adventures virtual field trip with Penn Museum. Students taking our most traditional academic classes have one more week to go before their classes end. And we celebrate along with all of the young entrepreneurs who will be launching their apps in the App Store as a part of their work this summer with Vineyard App Camp. This is certainly a summer for BOLD learners of all ages. A special thank you to all our D-E 360° Summer Faculty and staff for continuing to make campers' in-person learning both fun and engaging. 
 For both those who have continued with Summer Connections since Week 1 and for those who are new, we wish you a hearty Welcome to Week 5. There are 30 or so participants who will be new to Summer Connections programs this upcoming week.  We encourage everyone to look at the Getting Started Guide to understand clearly how to navigate and access the campus, course selections and other fun activities that are a part of our summer community experience. 
We have created a D-E360 Camp App for your complete access to all the links you'll need for your programs/activities.  Please download it to your phone as well as your child's device (if ten or older).  We've tried to make everything simple with access for all our program information.  Please use the weekend to play around on the app. 
Looking Ahead to Week 5
We'll be continuing with our "Oh The Places You'll Go" theme by taking a closer look at the Race to Space in our Discoveries and Adventures programs.  Campers will enjoy (virtual) "space voyage" activities while they learn about what it takes to become an astronaut. They will work on skills building in science, math, and English. We're also looking forward to campers having an opportunity to interact with a real live astronaut from NASA.
For this upcoming week, we continue with our robust summer of live performing arts as we welcome to campus the cast and crew of our Summer production of Seussical, JR.   Personally, I'm excited about the explorations of creative expression in music, dance, and theater.  As a kid and even as a young adult, I didn't fully understand or embrace the powerful role the performing arts have in our daily lives and culture.  But today, as a career educator and parent, I am passionate about the profundity of the arts.  The arts, in areas like musical theatre, teach us all about people and places, illustrating the human experience on so many levels – wonder, bewilderment, whimsy, joy, and struggle. The arts can also be a source of change in the way that it connects us all, invokes our reaction, and impacts our perceptions. I'm delighted that we will be cultivating in our campers this week a different literacy in the performing arts which empowers them to express themselves in the world. 
On the horizon is a new offering – Meta Up! An Immersive Academic Prep for High School.  Based on the six domains of cognitive learning (remembering, understanding, applying, analyzing, evaluating, and creating), the Meta-Up academic prep immersive allows students to select meaningful strategies, choose how they'll approach their school work, and build skills in how to assess their own learning process. Students will leave this 3-day immersive with more confidence and awareness of the topics above, a greater understanding of what to expect in high school, as well as tips and encouragement to be an independent learner and effective self-advocate.  Each student will also create a personalized Learning Profile and High School Planner. What we believe more than anything is that we don't "empower our students to learn." Rather we recognize that young people have the capacity to tap into their own personal agency to take action, be effective, and assume responsibility for their academic lives.  These are the skills of BOLD learners, which we need in our rapidly changing world right now.
Teacher Feature
Katie Stoeckler
Each summer, we provide every camper with a chance to enjoy yoga and meditation as a part of their experience; it's proven to be a hallmark of our programs.  We are especially pleased to have on board this summer Katie Stoeckler from Peace in Piermont.  She comes to our campus with an amazing philosophy around inspiring learners of all ages to create their own self-care practice. With a background in education, she uses her expertise in yoga and meditation to make everyday practice accessible for young people.  And she's done so much with our campers this summer.  Kids have spoken greatly about gratitude and being calm. 
Katie has generously shared a great number of resources with campers as well as our faculty.  
She's published two books, copies of which she's donated to our Summer Connections library: Let's Have an Attitude of Gratitude and Let's Sit Down and Meditate.  Our teachers love the reflective questions at the end of the books as well as the invitation for readers to return to prior pages to observe and wonder. If you'd like to experience Peace in Piermont for yourself, subscribe to her YouTube Channel.
Have an Amazing Weekend!
Sherronda Brown
Director of DE360°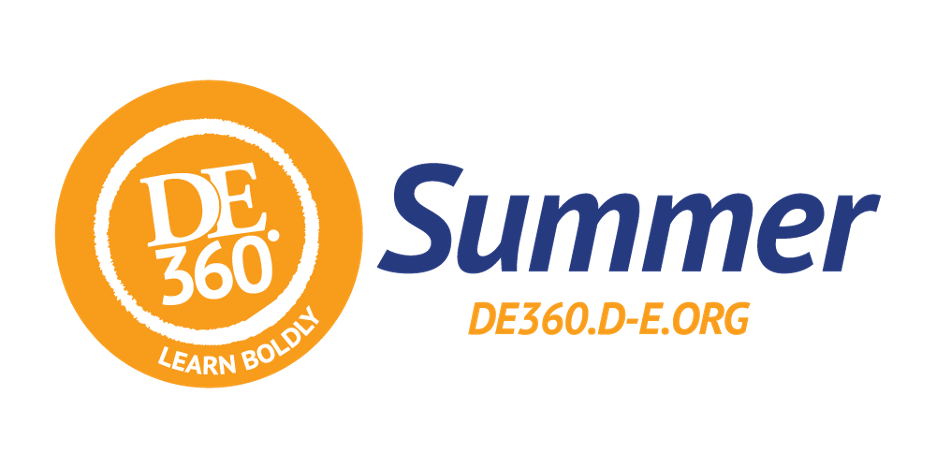 Dwight-Englewood School
315 East Palisade Avenue
Englewood, NJ 07631
Email: browns@d-e.org
For more information about upcoming programs, click links below:
Seussical, JR. Musical Theatre Production
Adventures Seussical Ensemble
USTA Sponsored Tess Fest – Saturday, Aug 14, 2021
Reminders About Coming to Campus
Enter the 81 Lincoln Street Gate by the Guard House.  Note that for the health and safety of everyone, the wearing of masks is required on campus at all times.  Families will also be required to show evidence of having completed a required COVID Daily Screening.  See the Getting Started Guide for more information.
Invite Your Friends to Summer Connections: Openings for Weeks 5 & 6
If you'd like to invite family and friends to join you in your Summer Connections experience for Weeks 5 and beyond, please share our program information.  Our Summer Connections programs run through August 13.  Although registration for camp is closed, families may still register to volunteer in our Family Gardening (on campus).  
Staying Connected
We have a phenomenal summer team who are available to help.  Simply email us at de360info@d-e.org with any questions or concerns.  In addition, individual program directors will be reaching out to you each week with specifics about the programs for which you are registered.  Meet our Directors & Operations Team.