COVID Vaccines and Testing:
All eligible participants must be fully vaccinated against COVID. Proof of vaccine is required. An individual is considered fully vaccinated 2 weeks after their second dose in a 2-dose series, such as the Pfizer or Moderna vaccines, or 2 weeks after a single-dose vaccine, such as Johnson & Johnson's Janssen vaccine.
All staff and campers are required to provide a negative COVID-19 test (PCR or rapid antigen) collected within 72 hours before the start of the program for which they are registered. If a participant is registered for two weeks, they will test one time, for four weeks, two times, and for six weeks, three times. To search for testing locations within your community, please click here.
YOUR RESULTS MUST BE SUBMITTED PRIOR TO THE FIRST DAY OF CAMP.
Daily Health Self-Check JotForm
Upon arrival on the D-E School campus each day, all campers (or their parents) must provide proof that they have completed their Health Self-Check Jot Form.
The Health Self-Check JotForm is made available through our D-E 360° Summer CampApp.
The image shows how a completed Health Self-Check JotForm will appear on your mobile device / cell phone.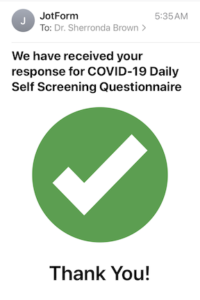 Campus Access for Pedestrians
The pedestrian gate toward the top of East Palisade Avenue will now be open for drop-off and pick-up.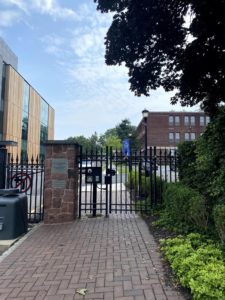 What to Bring:
Two masks (one to wear and a spare); there will be designated mask breaks throughout the day.

Pens, Pencils, Notebooks; BYOD (Bring your own device): If you are taking a class that requires you to bring your own device, please be sure to have it with you daily

Water bottle; there will be water stations throughout campus for refills.
What to Wear:
Students should come dressed comfortably for their activities. Shoes for all D-E 360° Summer Connections participants should be strong, safe, and easily tied or buckled. Flat shoes and sneakers are acceptable but must be laced and tied at all times. Shoes with heels, wedges, or platforms and/or wheels, including Crocs and flip-flops, are discouraged for safety reasons.
Campus Dining:
Your registration includes campus dining. We ask that you refrain from bringing any food items containing nuts as the consumption of such foods may compromise the health and safety of some of our campers and staff. Note that we do not prepare or serve foods on campus containing nut products.
Menus are provided in advance by the week provided through Nutrislice so that you know what options are available. To order lunch, please use the Nutrislice website. It's best to put in your order for lunch in advance; however, lunch orders may be taken up to 48 hours in advance. Please click here for a guide on how to use the Nutrislice system.
For participants who arrive early or wish to have a snack later in the day, the COOP is open on campus with a select number of drinks and snacks available for purchase. This is a cash only operation. If participants plan to purchase breakfast, snacks and/or drinks daily, single options range between $3 to $5.
Communication:
Choice classes, spirit events, parent showcases, and other exciting events will be included here in our summer notes e-newsletter. Program updates, group announcements, and photos will be posted as well! Visit http://summer.d-e.org/ as well as to your CampApp.
You may contact us via email or at summerprograms

To reach us by phone: 201-227-3144 (follow the options for specific directors)
Supervision:
Your child is expected to be picked up from the program when his/her assigned classes are finished. Students are not to roam the campus unsupervised. If you will be a few minutes late, please call the Summer Connections office to let us know. Your child can wait in the library until you arrive on campus. If you need the AfterCamp option for your child, please call the office to make arrangements. It is a $75 per day service. If you are repeatedly late in picking up your child, you will automatically be charged the AfterCamp fee.
Camp Merch!
DE360° T-shirts, water bottles, masks, stringed backpacks and totes are available for sale. Check the office for more info. All items previously ordered during registration will be made available on the first day of camp.