The Games are Underway! Cheers to our Adventures & Discoveries Campers
A Message from our Director Lisa Brown,
Excitement filled the air this week as we celebrated the Summer Olympics! 

Campers learned about the history and symbols of this phenomenal world event. With torches in hand, crowns on heads, and medals around necks, Discoveries and Adventures spent their days participating in mini-Olympic competitions, creating original athletic events, and engaging in an Olympic parade. 

What an amazing time we had this week!  
A Message from our Assistant Director,
Stacy Carela:
The campers all enjoyed Camp Kindness Day! 

Using sidewalk chalk, our campers beautified the campus with kind words and pictures, bringing a little sunshine to everyone walking by!

Additionally, our Discoveries campers learned and discussed the science behind bubbles. Together, with the Suez Water Company, the kids followed a recipe to create a bubble solution. They also constructed their very own bubble snakes and we had a fun bubble blowing party!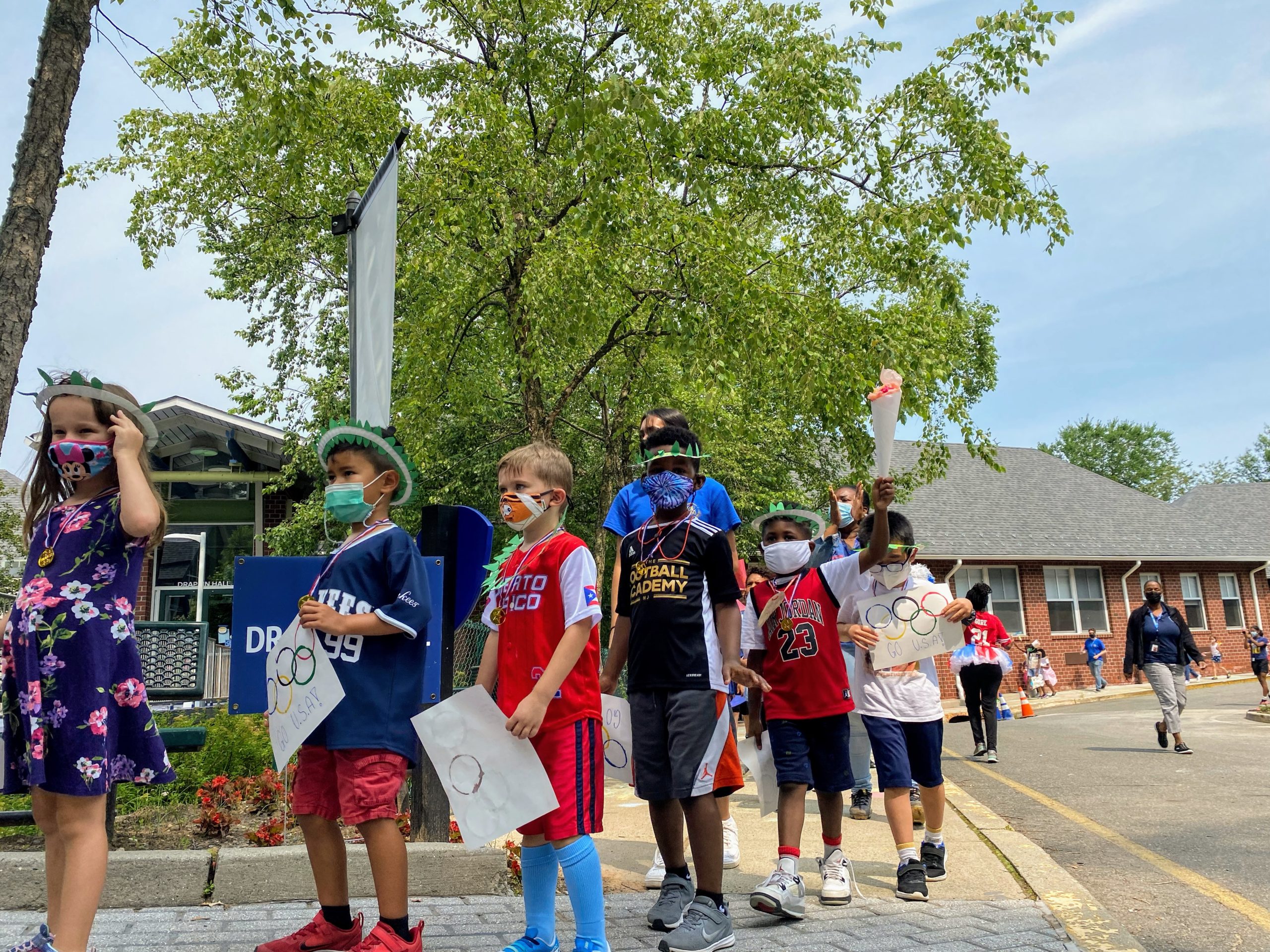 Discoveries – Our Most Stellar Champions!
Red Group:
This week we welcomed a few new campers to our group. 

A few highlights of the week included making the Olympic Torch, the Olympic Wreath, the Olympic Rings, and our very own Olympic medals. In addition, we created an American Flag to wave proudly as we cheer for our American athletes competing in the Olympics. 

This week Red Group also got to attend a fencing demonstration, join the Adventures campers for an Olympic Parade, enjoy a Virtual Assembly by Suez Water Company, and of course attend our weekly Imaginarium, Sounds of the Summer, and Bodies in Motion classes, which are always so much fun!
Blue Group:
While reading several books about Olympians this week the Blue group learned about three things necessary for Olympic success: determination, dedication, and hard work.

We created our own rings while learning about the colors that represent unity and friendship. 

We proudly marched in our parade with our torches we made in camp. What an incredible week!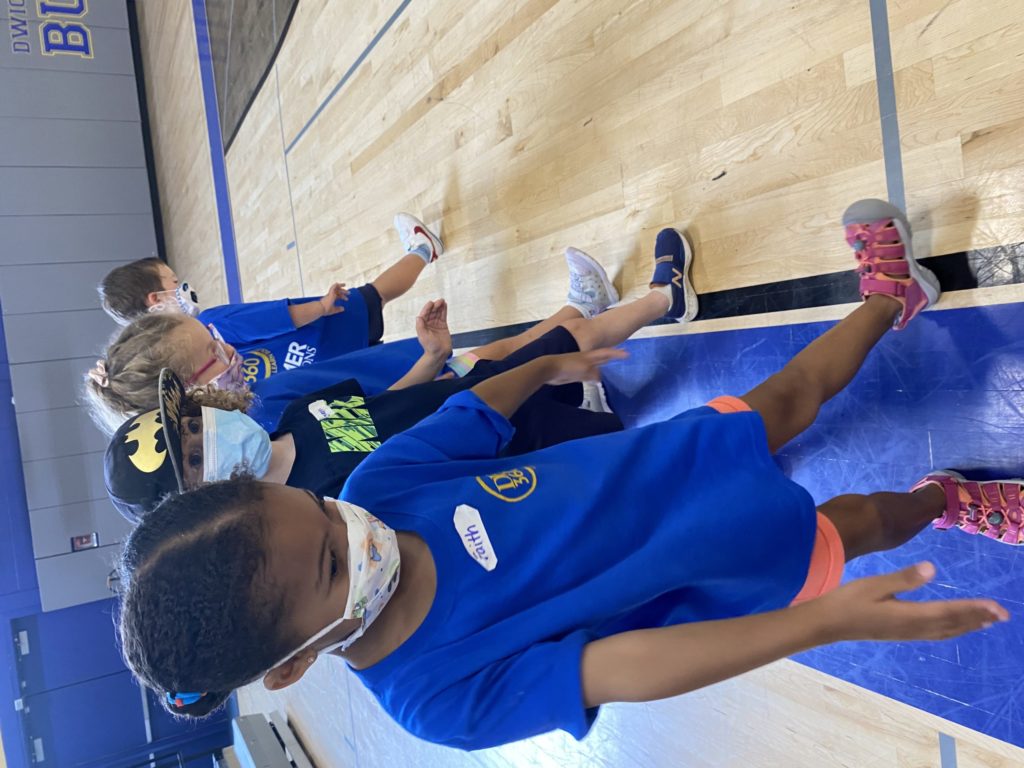 Ready, Set, Go! Adventures Campers!
Group 1:
Faster, Stronger, Higher! Group 1 this week learned all about the Olympics! 

We learned about the history, symbols, and traditions that take place during the Olympics. The campers got to create olive wreaths, gold medals, and talk about the 5 Olympic Rings. 

With the Olympics starting this Friday, we had our own Olympic Games that students all participated in!
Group 2: 
This week Group 2 has been passing the torch! We had a wonderful time exploring the progression of the Olympics. 

Group 2 learned about symbols of the Olympics as well as the importance of never giving up. Together we made posters celebrating a country where we would like the Olympics held. Students also created medals as well as headpieces they could wear if they were competing. 

Way to go Group 2!
Group 3: 
Group 3 had a great week diving into the theme of the Olympics! After learning about the Opening Ceremonies and all the different countries that are represented we designed Opening Ceremonies outfits for a country of our choice! We really got our creative juices flowing with this and we loved showing off our designs during the parade! 

We also learned about the different gymnastics events and tried our hands at choreographing and performing our own rhythmic gymnastics routines, complete with homemade ribbon sticks. 

Our week ended with our own Group 3 Mini Olympics where we participated in different events that we made up ourselves! 
Group 4:
Let the games begin! 

This week, Group 4 looked at the Olympics, both past and present. Campers read about the origins of the Olympic Games and dug up some interesting facts and trivia along the way. The kids also created their own paper mosaics of the famed Olympic rings. 

Their competitive nature burned like an Olympic torch, as all members competed in our very own Group 4 Olympics. Their Olympic spirit would have made Zeus proud!
Group 5: 
The wonderfully inquisitive minds of Group 5 are diving headfirst into the Olympic Games this week. 

We are getting to know one another by sharing our favorite sports, teams, and players! We are also getting to know ourselves by exploring our family heritage and ethnicities by designing hybrid flags and jerseys that reflect our own unique individuality! 

We finished the week off with an Olympic parade to celebrate the start of the Olympic games!
Discoveries & Adventures Activities!
Imaginarium:
From Englewood to Tokyo, we celebrated all things Olympic this week! 

Discoveries campers made track and field race "bibs" to suit up for our own Olympic games. Adventures campers started off the week by learning about the Olympic tradition and creating their own Olympic torches using paint and handprints. Next, they created models of Olympic athletes and identified the new sports added to the Summer Olympics, such as surfing, speed climbing, skateboarding, and karate.

The week ended with fun and games before our closing ceremonies!
Songs of Summer:
We welcomed our new campers to Olympics week with Hello songs and rhythm/movement games to learn everyone's name. 

We're adding notes to our solfege (do-re-mi) scale and singing songs with those notes and their corresponding hand signs. This week we sang songs for Kindness Day and our Olympic Parade:

This Little Light of Mine, Take Me Out to the Ball Game, This Land is Your Land, and You're a Grand Ole Flag.

We also had our first introduction to the songs for this summer's musical, Seussical, Jr. First impressions?  "Fun!" "Exciting!" and "That's a lot of words!"
Bodies in Motion:
In the spirit of the Olympics, this week we are spotlighting tennis. Tennis

appeared at the first modern

Olympic

Games in 1896 but was dropped from the program after the Paris 1924 Games. It returned 64 years later

!  

Our Adventures and Discoveries campers are enjoying their time spent with our tennis instructors. From its low injury risk to its big fun guarantee, tennis helped our kids learn how to work together with a partner. 

Our tennis instructors worked with our youngest campers in developing their hand-eye coordination skills, while our older campers engaged in games to strengthen tennis skills.