Call the Detectives! Our Discoveries & Adventures Campers are on the Scene!
A Message from our Director Lisa Brown,
Adventures and Discoveries had an awesome week becoming code breakers and detectives. 

They learned sign language and the many ways messages were sent secretly during war times through Morse code and even within knitting designs. A virtual museum experience with Penn helped campers dive even further into the topic. 

Our fun-filled week was capped off with the obstacle courses and camp sing-along. Week 4, sorry to see you go! 
A Message from our Assistant Director,
Stacy Carela:
This week our Discoveries campers advanced into the world of technology and coding. The teachers introduced coding through fun hands-on games and activities that made our campers think like computer programmers. 

The highlight of our week was the outdoor obstacle course on Leggett Field. We went over small hurdles, crawled across mats, and jumped from one mat to the other. 

The kids had a BLAST!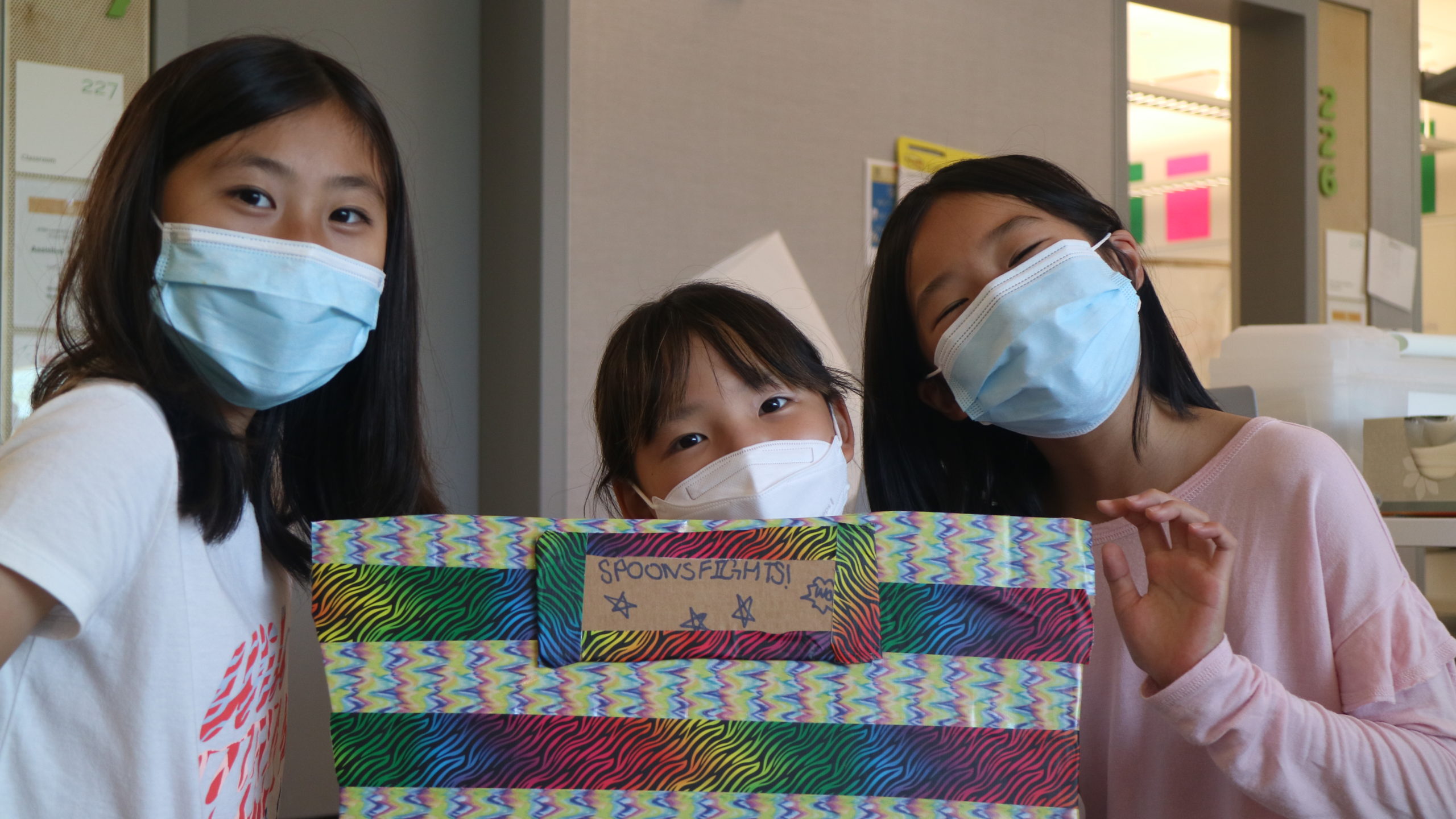 Discoveries – Thinking Caps on, Wiz Kids! 
Red Group:
The Red Group had another fantastic week! This week we explored the basic concepts of coding through a few interesting and exciting activities such as a treasure hunt and navigating our way through a maze. We also created some additional art masterpieces, such as uncovering our own secret message using watercolor paint and paper. 

The week also brought a phenomenal Virtual Field Trip with the Penn Museum. Our weekly Bodies In Motion, Sounds of Summer, and Imaginarium classes continued to amaze us as well. 

The Red group is looking forward to Week 5!
Blue Group:
What a wonderful week! The Blue group has had to learn new vocabulary and problem-solving. In correlation with the theme of Secret Missions, the campers tried puzzle-solving, pattern making, treasure hunting, and cracking codes. 

The blue group learned what coding is along with new terms such as algorithm, sequence, and "debug". We created a life-size grid outside and practiced giving specific directions to arrive at an object. We also practiced our coding skills using story sequencing while creating our own with the story '

The Gingerbread Boy'

.

Our field trip this week to Penn Museum was amazing learning about artifacts and technology past and present. We start each day off dancing and singing with our '

Hello Song'

and '

Good Morning to You'

and continue our fun-filled days with the same energy.
Adventures: Tech Experts & Problem Solvers!
Group 1:
Group 1 had a wonderful week diving into coding! We learned all about the topic and how we use it on a daily basis. Campers utilized programs such as scratch JR and code.org to practice their new skills. We also discussed how the commands used for coding need to be super specific! 

Besides coding, Group 1 took an interest in decoding riddles and coming up with their own! They became Secret Reader Agents and have their own spy names from a spy generator from the book series

Mac B Kid Spy.

We also made pictures with white crayons and used watercolors to uncover secret messages. 

Group 1 had a fantastic time exploring technology this week!
Group 2: 
This week Group 2 had a great time cyber surfing! We learned about the history of computers and how they communicate. We took a look at household items that use technology to function as well. Together we explored commands, algorithms, and binary code.

Group 2 was able to code puzzles to get objects from one place to another, use math to interpret hidden codes, as well as create their own algorithm to move their avatar through a grid. 

Each day this week was filled with new exploration and fun. Once again Group 2 showed all that they are capable of even in the world of technology!
Group 3: 
Group 3 has spent Week 4 exploring the world of codes, languages, and cultures. We learned about the Navajo Code Talkers and how they used the Navajo language to create an unbreakable code. Then we all created our own secret codes and sent each other messages! 

We looked at how language and communication can take different forms by learning about sign language, hieroglyphics, and parietal art (cave art). We decoded ancient cave paintings. We also made our own cave paintings on large papers for the walls of our classroom. 

We learned about binary code and how computers use it to communicate and understand things! 
Group 4:
Group 4 explored all different types of codes this week.  Using Morse code, the military alphabet, and naval flags, the campers created and decoded secret messages.  

Students used their craft skills to create paper naval flags that listed their initials. 

We may have a few future CIA members among group 4!
Discoveries & Adventures Activities!
Imaginarium:
This week in the Imaginarium we learned all about coding, language, and culture. 

Discoveries campers read a story called "All Are Welcome Here" and discussed different cultures.  Adventures campers started off the week by channeling their inner computer programmers. They used Scratch Jr./Scratch and Minecraft Adventures to solve tasks, varying in complexity, using block coding.

We then looked at how language can be coded for different reasons. Campers explored Braille, Morse code, and the Pigpen Cipher. To wrap up the week campers used one of the codes or languages from the week to tell us something about their cultural background.
Songs of Summer:
In Discoveries, we sang songs with our secret musical hand signs. We also learned to sing

Sarasponda

with movements and rhythm sticks, and sang along with songs from

Seussical, Jr. 

In Adventures, we learned how to decode music notes on the staff to get their letter names. We were able to figure out the letters to some hidden words from reading the notes in the treble clef. We learned that if we can remember where G is, we can figure out every other note!

We're also learning Frère Jacques in one round, and some songs from Seussical, Jr so we can sing along during the performance at the end of Week 6!
Bodies in Motion:
 This week in Athletics, we spotlight

Golf!

 Golf is an active game and is less injury-prone than contact sports. 

Conditioning for golf improves the strength of core muscles that support the spine, improve flexibility, and allow participants the opportunity to be active and fit. 

Our Golf coaches encouraged our campers to analyze what they did well and what has to change to improve. Even our youngest campers worked on developing habits of self-improvement by self-analysis skills.