D-E 360° Summer 2022
"Your 

Hero

's 

Journey

!" 
Serving Students in Preschool – Grade 12
In-Person on the Campus of Dwight-Englewood School June 27 to August 5
A Winter Message from Director Sherronda Brown
Dear Families,
Thank you for turning to us with your interest in Summer programs at D-E.
So much has happened in our lives, our school communities, and in our world, it's really hard to make sense of the last three and a half years.  It's been a return to normal life and all of what that means: coming from behind PPE; reconnections with friends and family; and the plain hustle and bustle of "go, go, go."  
In a normal year, we would be reaching out to you to share our catalog for the upcoming summer.  The following statement may come as a bit of a surprise to you, but I am writing to share that we've decided at Dwight-Englewood to put our summer program on pause for 2023. Put simply, it's time for D-E as a school to just look and reflect on all that we've accomplished with Summer Connections and to think strategically about where we would like to go for the future.
What's most clear in all of the conversations we've had on campus this past Fall is that we've built a spectacular and joyful summer learning community, and that our returning families and faculty/staff have played significant roles in that success. We're hoping to capture the perspectives of as many people as possible as we plan for our future. Reach out to us with any questions or comments you might have.
By the way, our collective photo galleries always serve as a source of inspiration for me as I think about summer. For our 'best of' Summer 2022 photos and clips, click on our weekly video highlights above, or check out our Cohort 1, 2 and/or 3 online photo albums at right!
Best,
Director of D-E 360°
A Note on COVID-19 Protocols 2022:
In 2021, we successfully ran six weeks of Summer Connections programs.  By creating a safe "bubble,"  we kept COVID out and our community safe. We'll follow some of the same protocols this summer, including limiting Summer Connections enrollments.  In addition to limiting enrollment, there are a number of safety precautions we will have in place to restrict the transmission of COVID. We anticipate that masks will be optional indoors, with the exception of preschoolers.  Masks will be mandatory for preschoolers indoors.  Please also note that all faculty, staff and eligible participants will be required to show verification of full vaccination. In addition, all faculty, staff and participants are required to submit a negative PCR COVID at least 72 hours before the start of the program for which they are registered. The deadline for registration is ten days prior to the start date for all programs. For more information and refund policies, click here.
Check out our Campus Map!
See the Full Summer 2022 Schedule
Browse and plan your summer with our full schedule chart.
Take a Look! Cohort 1 - Summer 2022 Photo Gallery
Look at what our campers are up to: Learning & Growing Together!
Summer Fun! Cohort 2 - Photo Gallery
Look at what our campers are up to: Learning & Growing Together!
A Fantastic Summer! Cohort 3 - Photo Gallery
Look at what our campers are up to: Learning & Growing Together!
Picture Yourself In Our Summer Community Building, Learning, Growing TOGETHER
High School Scholars Program, Elective Courses for Credit | 5 WEEKS | June 27 – July 29
Students wishing to accelerate their studies may apply for credit to fulfill graduation
requirements or may use the course to fulfill prerequisites for more advanced courses.
High School Elective Courses for Credit (math and lab sciences)
through our Scholars Program (Five weeks: June 27 – July 29):
Advancement Algebra 2

Advancement Chemistry

Advancement Computer Programming

Advancement Geometry

Advancement Physics

Advancement Pre-Calculus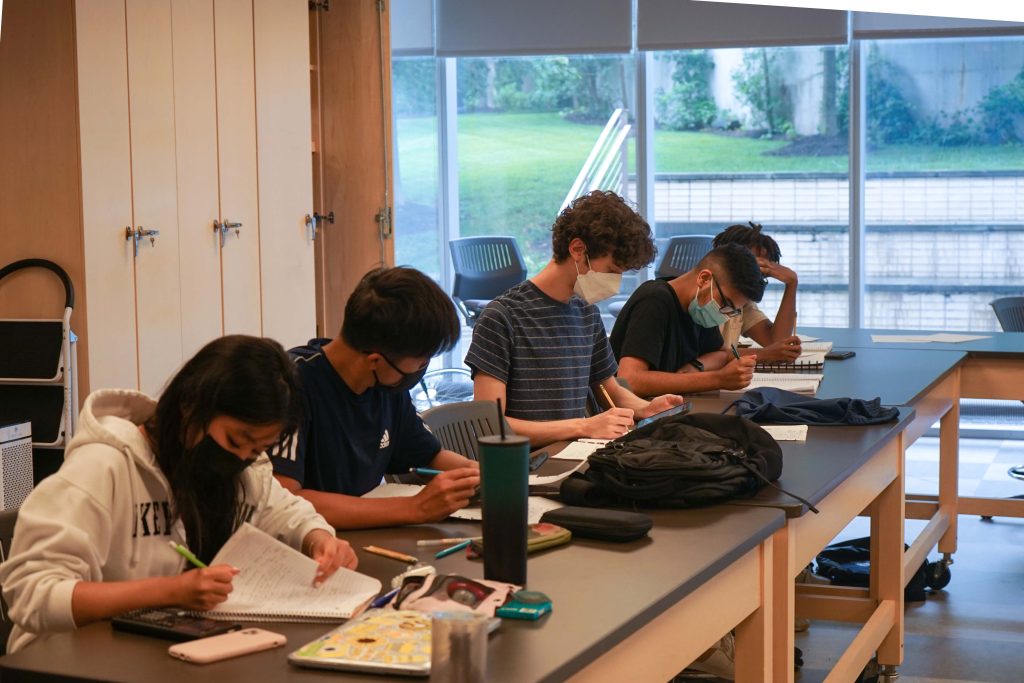 Middle School Academic Enrichment: Junior Scholars | 5 WEEKS | June 27 – July 29
Looking for a rigorous yet fun program? Junior Scholars will help you meet your educational goals
while giving you all the benefits of a traditional camp.
Middle School Academic Enrichment (math, writing and literary skills ) through our Junior Scholars Camp (Five weeks: June 27 – July 29)
Adventures in Math

Creative Writing: Hollywood Writer's Room

Literary Skills Seminar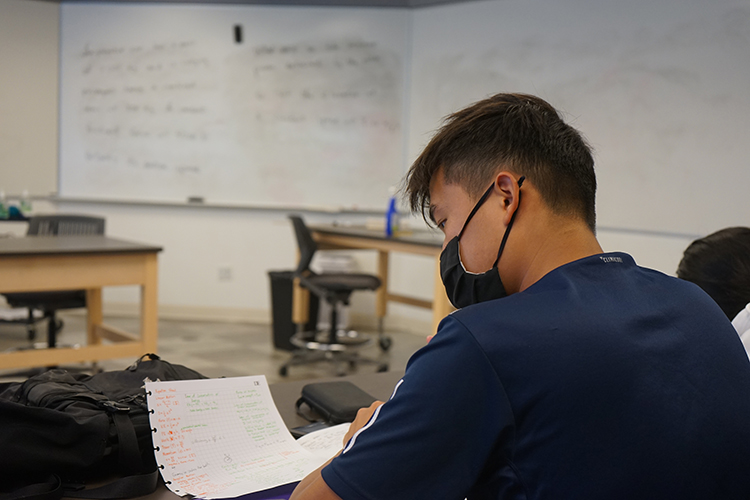 Grades 5+

 Immersives | TWO WEEK PROGRAMS | June 27 – August 5
Immersives offer one-of-a-kind specialized courses to build unique technical skills, crafts, and ideas
A Masterclass in Orchestra for
students Grades 5+

April Audition by video Required
A hands-on immersive for
students in Grades 5-9 
A Behind-the-Scenes Immersive for
students Grades 5-9
An Art & Digital Media Immersive for
students Grades 5-9
A Climate Change Immersive
for students Grades 7-10
A Spectacularly Dramatic Immersive for students Grades 5-9
A variety-sport: Volleyball, Basketball, Tennis,
& Sports Journalism/Statistics Immersive
for students in Grades 7-10
A Culinary Arts Immersive for
students Grades 7-10
A Coding-for-Good Immersive for
students Grades 5-7 and 8-10
See the Full Summer 2022 Schedule
Browse and plan your summer with our full schedule chart.

Discoveries & Adventures | Your Hero's Journey | Preschool & Elementary
Our Discoveries and Adventures campers explore each week's theme. The camp experience includes
specialty activities like tennis, dance, archery, fencing, basketball, and waterplay.
*Note: Participants will be enrolled as cohorts with a minimum of two week commitment
Week 1 –

The Call to Adventure (Graphics/Language Arts)

Week 2 – Story Starters
(Digital Media/Writing Workshop)
Week 3 –

Forest Heroes (Science/Engineering/Ethics)

Week 4 –

Ancient Cultural Myths (Ancient History/Geography)
Week 5 –

Landing on A Strange Planet (Coding/Robotics/Health & Wellness)

Week 6 –

What I Learned at Summer Camp (Theatre Arts/Writing Workshop)
OR
String Society | June 27 – July 1 | Grades 5+
Celebrating its 15th Anniversary! Cultivate your musicianship skills and connect your passion for
performing with a side-by side experience with sought-after performing artists.
Our instrumentalists will immerse themselves in chamber orchestra rehearsals, sectionals, and private lessons. Participants will have the opportunity to share a solo piece in the performance class and gain insights into various musical topics in the seminar workshop. The week will culminate in the Grand Finale Concert, which will feature the students and faculty performing various chamber orchestra pieces and is open to family and friends.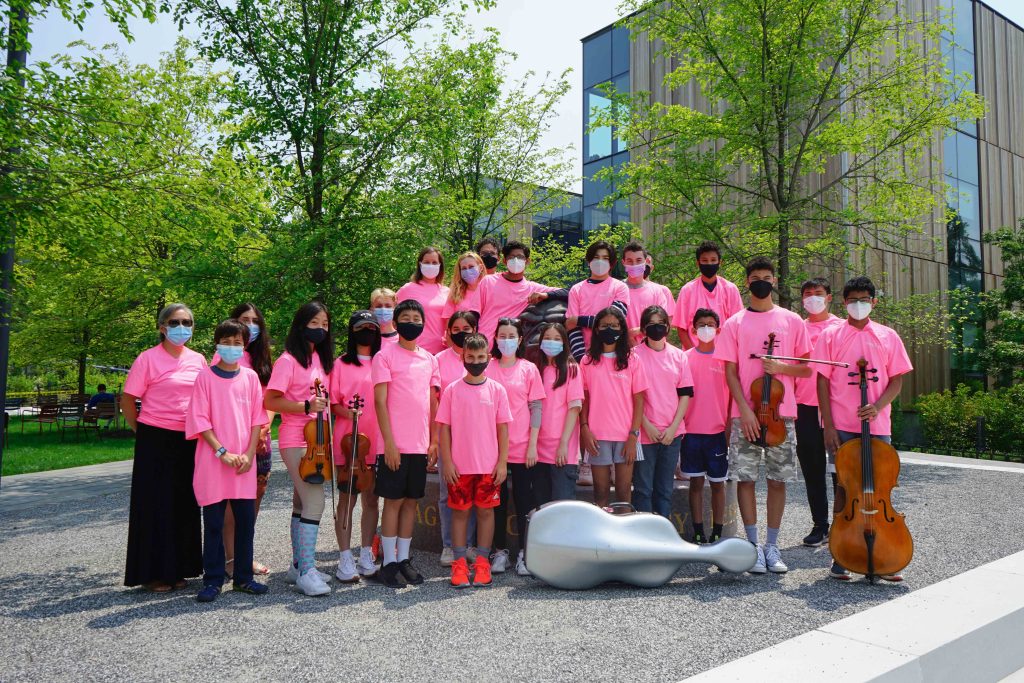 Health & Wellness Activities | Pre-K to Grade 8
Campers will have the opportunity to take advantage of all our

health and wellness

offerings
this summer, which include archery, fencing, basketball, tennis, and yoga.
Older participants in grades 9-12* may elect to take individual lessons in tennis, fencing, and archery.
*Additional fees apply. Make inquiries directly to de360info@d-e.org for private lessons.
AfterCamp | Pre-K to Grade 8 | 2:30-5:30 PM Daily
The AfterCamp Program is offered to campers in Pre-K through Grade 8 daily from 2:30 to 5:30 PM. Students enjoy a nutritious snack, planned and organized sports and activities, and the use of our library facilities. With a lot of fun activities, the kids will be kept creatively engaged. And to keep our campers safe, we've devised some fun themed outdoor activities just for The Explorers Club (*Note: participants divided by age/grade level). Please email de360info@d-e.org.

Learn more about D-E 360º Summer Connections
Curious about our program or Dwight-Englewood's campus? Email us directly at

de360info@d-e.org

if you'd like to visit the campus.
Food Service on Campus | Cater to You (CTY)
Cater To You (CTY) Food Service on Campus: Fees include the provision of snacks and lunch daily. Note: Food may not be ordered from off campus restaurants or services. To protect participants from the risk of contracting COVID, the campus will be closed to visitors throughout the program day, including food delivery services.
COVID Vaccines and Testing: All eligible participants must be fully vaccinated against COVID. Proof of vaccine is required. An individual is considered fully vaccinated 2 weeks after their second dose in a 2-dose series, such as the Pfizer or Moderna vaccines, or 2...
D-E Summer Connections
is ACA Accredited!
We are proud to be accredited by the American Camp Association (ACA)!  This means we have met more than 300 standards for health, safety and programming quality.  Accreditation by the ACA is a voluntary yet rigorous process. To learn more visit www.acacamps.org.